The Stallion Affinity Report provides you with a detailed list of Broodmare Sires that cross well with your stallion. You tell us your stallion's name and location standing, and we'll tell you which Broodmare Sires cross for a TrueNicks-recommended rating of B+ or better.
You'll receive your Stallion Affinity Report electronically, but we'll also send you a FREE bound report that you can reference again and again.
Here are some reasons to choose the Stallion Affinity Report for your breeding selections:
Identifies the Broodmare Sires in your region and worldwide that cross for a TrueNicks-recommended rating of B+ or better.
Identifies the best pedigree nicking choices for your stallion
Locates Broodmare Sires whose daughters form the local broodmare population
Detailed lists tell you not only how each Broodmare Sire matches with your stallion, but also which Broodmare Sires rate best by the proprietary Sire Improvement Index
Includes a full equineline.com pedigree page for your stallion
Provides an overview of stallions by tail-male descent to help identify stallions that improve upon their sire line
Order your TrueNicks Stallion Affinity Report now and SAVE $200!
The retail price for this valuable data is $995 per stallion, but we are currently offering this savings for a limited time.
View a Sample Report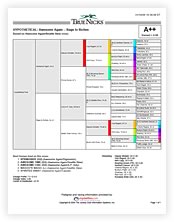 Help
Need help completing the Stallion Affinity ordering process? Contact us.