Don't look now but it appears Distorted Humor has got us surrounded...it's just a sneaky fact stemming from an examination of a variety of stallion lists over the past few months.
Granted, some of the notations which follow might not exactly stand out among the major commercial achievements the son of Forty Niner—Danzig's Beauty, by Danzig, has racked up through Labor Day, nonetheless:
• #1 North American Active Sire percent of SWs from foals (500+ foals), 12.1%
• #1 North American Broodmare Sire (led by champion Arrogate and grade 1 winner Practical Joke)
• #2 Active North American Sire Lifetime Yearling Average
• # 9 Leading Active Sire by AEI (2.03)
• #21 sire by progeny earnings 2017
• Son Maclean's Music, #3 Second-crop Sire
• Son Jimmy Creed, #3 Freshman Sire
• Son Brethren, Florida's #5 sire of 2-year-olds and #2 Freshman Sire
• Son Cowtown Cat, #1 sire in Ohio
• Son Distorted Reality, #2 sire in Arizona
What is interesting about these figures is when he first went to stud, Distorted Humor was not exactly considered to be the leading, nor likely to be the last remaining, son of Forty Niner in North America. Indeed, by the time he went to stud, the bloom was somewhat off his sire's rose.
A brilliant and versatile son of Mr. Prospector from a great Claiborne family, Forty Niner was champion at 2, a contemporary of Winning Colors, and fierce rival of another son of Mr. Prospector, Seeking the Gold, throughout their careers. Both wildly successful when they first went to stud, Forty Niner had considerable success with his sons such as Editor's Note, Twining, Tactical Advantage, and Coronado's Quest, with the Florida-based End Sweep his most successful. Others such as Luhuk and Jules made deep and lasting impressions in Argentina and Brazil, respectively.
And yet, Forty Niner was shuffled off to Japan in 1995 in a surprising move, and before anyone could figure it out, most, if not all his remaining sons, had disappeared, either passing on or moving overseas. Except, of course, Distorted Humor.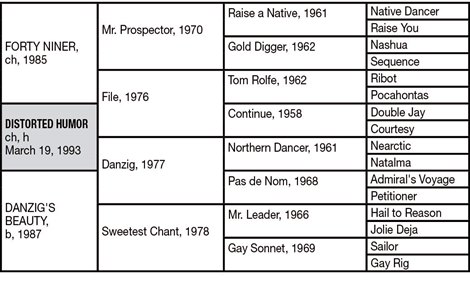 A chestnut with exceptional power through his quarters and slightly low at the flank, he is almost an identical phenotypical version of his sire. Yet he had knocks when he went to stud. A multiple graded winner, he never won a stakes beyond a mile or a grade 1. Conformationally, he stands long and low in his pasterns, which, if he had passed it on with any frequency, might very well have helped him achieve some of his success as a sire of quality turf runners.
Not that he needed those. He started off his stud career with champion Funny Cide, the hugely popular New York-bred who won the Kentucky Derby (G1) and Preakness Stakes (G1). He was followed in subsequent years by important winners such as Drosselmeyer (Belmont Stakes, Breeders' Cup Classic, both G1), Commentator (Whitney Handicap, G1, twice), Any Given Saturday (Haskell Invitational Stakes, G1), Boisterous (Man o' War Stakes, G1T), and Flower Alley (Travers Stakes, G1), who went on to sire dual classic winner and champion I'll Have Another.
Nor has Distorted Humor confined himself to the East Coast. Indeed, he has sired champions in Ireland (2-year-old Pathfork), Canada (sprinter Hillaby), United Arab Emirates (3-year-old Regal Ransom), and Puerto Rico (older male Don Dandy). He also has sired grade/group 1 winners Hystericalady, Awesome Humor, Joking, Fourty Niners Son, Bit of Whimsy, Jimmy Creed , Aesop's Fables, Rinky Dink, and Cursory Glance. Distorted Humor has 146 stakes winners from 1,261 foals to date, and that is remarkable.
But what is more remarkable is he has an extraordinary biomechanical sire profile—he is at the center of the breed phenotypically. This means the majority of an average sample of mares bred to him would be physically compatible to produce efficient racehorses—and he would likely improve upon them. He is one of the very few stallions we have seen whose name pops up on our mare matching test when it comes to "best bet" more than most other leading sires.
You can bank on that, and he'll be laughing all the way.