Say what you will about the quality of the fields as the Breeders' Cup approaches, but in this corner the two best racehorses in the world will not be there: Enable and Winx. Each achieved historic status in opposite hemispheres in October to establish 2017 as "The Year the Ladies Ruled."
Perhaps one could be accused of hyperbole with that statement. However, what they did and how they managed to accomplish it in the same year seem downright karmic.
Enable might be a bit more familiar to North Americans, especially given her smashing victory Oct. 1 in the Qatar Prix de l'Arc de Triomphe (G1). While it is not unusual for a filly to win this race, never had a 3-year-old filly based in England done so. Enable also beat colts in the King George VI and Queen Elizabeth Stakes (G1) and carried off the prize in three group 1 Oaks—at Epsom, York, and the Curragh in Ireland as well a listed version at Cheshire—on her way to seven wins in eight starts so far.
That she is a homebred for Khalid Abdullah's Juddmonte Farms, which also owns 2016 3-year-old champion male Arrogate, makes one's imagination run wild when contemplating a future assignation in that operation's Kentucky breeding shed.
Winx, on the other hand, often races when most of our hemisphere is asleep. But international television and live streaming have enabled her to come to the fore after a modest start to her career. All she has done is win 21 stakes races in a row, and with her victory in early October in the Seppelt Turnbull Stakes (G1), she took her 23rd stakes race lifetime. Winx is not running up these totals in the hinterlands. She has won 15 group 1 events, including the last three runnings of the William Hill Cox Plate (G1), arguably the country's top race for older runners.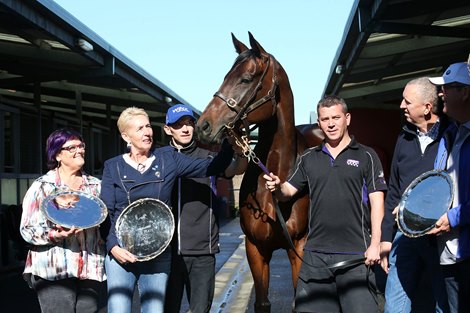 Winx has captured the last three runnings of the Cox Plate - Mark Gatt Photo
Both Enable and Winx have been measured as having almost equal closing stride lengths near 24 feet, give or take a couple of inches. This is remarkable because Winx, who tends to lie back and suddenly quicken when all looks hopeless to get up late, is a bit smaller and has a more frequent cadence. Enable tends to stalk, utilizing a smooth reach to settle into a cruising cadence that leaves her rivals breathless.
This is where the similarities end.
That's because you could not find two more completely different pedigree patterns in such similarly accomplished runners than the ones that these two fillies have behind them. In addition to the fact they are from different sire lines—Northern Dancer for Enable and Mr. Prospector for Winx—Enable is highly inbred, and Winx is almost a complete international outcross.
Enable is by Nathaniel, a superbly accomplished son of the incomparable Galileo, whose sire, Sadler's Wells, is also the sire of Enable's dam, the listed stakes winner Concentric (group 3-placed). There aren't many runners with that kind of pattern who have accomplished as much on the racecourse. With Shirley Heights, Ile de Bourbon, and Habitat as sires of the next three dams in a family bursting with group winners, Enable is about as Eurocentric as you can get.
Winx, on the other hand, is a virtual outcross, and her Australian-New Zealand developed female family is infused with North American speed sires. Her sire, Street Cry, added to his achievement of siring Zenyatta in Kentucky by becoming leading sire in Australia as well. Winx's dam, multiple stakes winner Vegas Showgirl, is by Australian-bred Al Akbar, whose sire Success Express (by Hold Your Peace) won the 1987 Breeders' Cup Juvenile (G1) before relocating Down Under. The next dam is by Voodoo Rhythm, who was exported to Australia after failing to win a stakes, but he is by Northern Dancer out of Obeah, and therefore a full brother to Dance Spell, Discorama, and Black Powder, and a half brother to Hall of Famer Go for Wand.
Yes, they come in all shapes, sizes, and pedigrees, but the greats have one thing in common: They want to win, and they do it.