Tiz the Law came out of his 5 1/2-length Runhappy Travers Stakes (G1) victory Aug. 8 in good order and was reported to be bright-eyed Sunday morning at Saratoga Race Course. Sackatoga Stable's four-time grade 1 winner registered a career-best 109 Beyer Speed Figure in the marquee race.
Just shortly after training concluded for the morning, trainer Barclay Tagg was at his barn on the Saratoga backstretch standing next to the garland of carnations that had been draped around Tiz the Law's neck Saturday. Tagg said his star 3-year-old colt was in good order.
"He looks fine," Tagg said. "I was very pleased with the way he ran. He did everything a good horse ought to do and did it perfectly."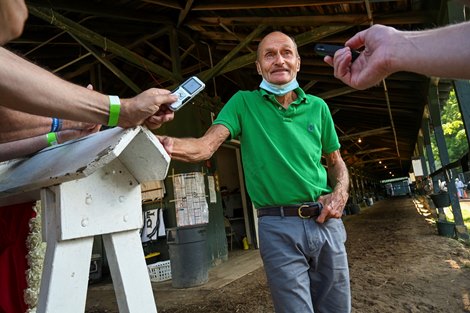 Patiently guided by regular jockey Manny Franco, the son of Constitution took charge nearing the quarter-pole and drew off easily and geared down. The scenario played out exactly the way Tagg envisioned it.
"I pictured the horse being at his best laying second or third in the two path just off the leader, and I figured the leader would be (Uncle Chuck). We discussed that, and that's exactly what he did," Tagg said.
Tagg praised Franco for being an ideal pilot aboard Tiz the Law.
"They work well together, they know each other, and it's a good combination," Tagg said.
After becoming the first New York-bred to win the Belmont Stakes Presented by NYRA Bets (G1) in 138 years, Tiz the Law became the first horse bred in the Empire State to win the Travers since Thunder Rumble in 1992.
Tiz the Law will now point to the Sept. 5 Kentucky Derby Presented by Woodford Reserve (G1) at Churchill Downs. Tiz the Law is atop the Kentucky Derby leaderboard with 372 qualifying points.
Tiz the Law will have a quicker turnaround than what he's used to entering the Run for the Roses off four weeks' rest.
"There's nothing I can do about it, but I don't think it will faze him at all," Tagg said.
"He seems to terrorize the competition when he makes his move. Every race I've seen, even the first one, has been great. He came off that turn, and I thought, 'They're going to run by him like he's standing still,' and then I look again and he's three in front. It was the same way yesterday. I thought, 'Get into him, Manny,' and he just kept running, running, running."
Tagg credits much of the success with Tiz the Law to how hands-on and detail-oriented his team is with the horse, including barn foreman Juan Barajas Saldana and assistant trainer Robin Smullen.
"That's our job, to make things go smoothly," Tagg said. "We've been fortunate with him. We've been hands-on every step of the way. He doesn't go out of the stall without Juan, he doesn't go out to the track without Juan. Robin rides him and I lead him and warm him up, and then I pick him up when he pulls up and we bring him back to Juan and Juan brings him back to the barn. It might be boring for the horse, but it's pretty safe."
Tagg said Tiz the Law will likely have two breezes before the Kentucky Derby.
"He'll gallop every day," Tagg said. "He'll have about 10 days before we breeze him again. We'll probably only be able to get two breezes in him before we go out there. We'll go out there a week ahead of time."
Tagg praised Sackatoga Stables founder and operations manager Jack Knowlton for being a patient owner and a great partner over the years.
"Jack is the greatest. If every owner could be like Jack, it would be a great life," Tagg said.
It's on to the Kentucky Derby for Global Thoroughbred and Top Racing's Caracaro, who finished second in the Travers, as well.
Trainer Gustavo Delgado said he was pleased with the way Caracaro exited the Midsummer Derby, his second race in three weeks off a six-month layoff.
"He came back very good. He's happy, he ate his food, he's relaxed. Right now, he's sleeping. Everything's good," Delgado said. "We'll check with the vet and talk with the owners and my son and decide. As long as there's no problems, we'll go to the Derby.
"Yesterday was a big race, a strong race. I consider Tiz the Law the best horse in the country. In the Travers, they were all good horses. It was his second race after the six months, and to run second again was very good for us."
Caracaro earned 40 qualifying points for the Derby in the Travers, where he was two lengths clear of Max Player in third. Caracaro picked up 20 points for his neck defeat in the July 16 Peter Pan Stakes (G3) at Saratoga and ranks 10th, solidifying his spot in the 20-horse Derby field.
"That's what we wanted and that was the plan. It's always been the plan with him. We're kind of satisfied that we accomplished that," Delgado's son and assistant, Gustavo Delgado Jr., said. "Of course, we know there's a freak horse around. We do think that our horse still has a lot of room for improvement. He's still developing, you can tell, and we were asking a lot from him.
"I think running after three weeks, one more furlong, out of that effort in the Peter Pan, to come back in the Travers, a tougher race, a tougher field, and he showed up again. His figure numbers keep improving. He handled the distance pretty well. You can tell he kept going, at his own pace, but he kept going. We were just second-best. But he beat all the other horses, so that was good."
Delgado Jr. said Caracaro is expected to remain at Saratoga and train up to the Derby. It will be the third trip to Louisville for the Delgados, who ran 18th with Majesto in 2016 and 13th with Bodexpress in 2019.
"It's going to be a long and very exciting three weeks," Delgado Jr. said. "It's more likely that we will stay here. I don't think shipping the horse the next few days would be good for him. He will go through regular post-race stress, so it's better if he stays here, and he likes it here, the weather and everything. Ideally, we will stay here and train for the Derby and ship right before the race. That's what makes more sense right now."
George Hall and SportBLX Thoroughbreds' Max Player continued his career-long trend of finishing in the money.
Just like the Belmont Stakes, Max Player stayed off the pace before finishing strong under jockey Joel Rosario.
Max Player has a record of 2-1-2 in five starts for trainer Linda Rice.
"He came out of it really well," Rice said. "He's a little tired, but otherwise he's in good shape.
"We were pleased with it. He's continued to improve and taken baby steps forward. So we were pleased with that. He's been pretty consistent and has been moving forward with gentle progress. … He came out of it fine and he's sleeping a lot today since he ran hard and is a bit tired. But all in all, he came out of the race well."
Max Player earned 20 qualifying points toward the Kentucky Derby. He is ninth on the Derby leaderboard with 60 points. Max Player would be Rice's first career Derby starter should the connections decide to run.
"We're certainly going to keep that option open," Rice said. "We'll give it a few days, and I'll discuss it further with George and (SportBLX president) Joe De Perio and talk about that later in the week."
Serengeti Empress Emerges From Ballerina Triumph in Good Order
Trainer Tom Amoss reported that Joel Politi's Serengeti Empress was in good order the morning after her game victory in the Ballerina Stakes (G1) at Saratoga.
The 4-year-old daughter of Alternation earned an automatic berth in the Nov. 7 Breeders' Cup Filly & Mare Sprint (G1) at Keeneland with the victory.
"She looked good. I was surprised she wasn't more tired," Amoss said.
Serengeti Empress earned her first grade 1 victory since last year's Longines Kentucky Oaks (G1) and gave Amoss his first top-level win at the Spa since Heritage of Gold won the Go for Wand Handicap (G1) in 2000.
"I think it had a lot to do with the distance of the race," Amoss said. "It really suits her, and I'm not so sure she hasn't always been a good middle-distance horse. We were fortunate going into the Kentucky Oaks."
Last summer, Serengeti Empress was second in the Longines Test Stakes (G1) at the Spa, where she engaged in a dramatic stretch battle with eventual champion 3-year-old filly and female sprinter Covfefe.
Serengeti Empress arrived in the Ballerina off a swift half-mile work on the Saratoga main track.
"I think she thrives up here," Amoss said. "Not only in her work patterns but daily gallops. Her brightness of coat is strong, and there are a lot of things that I like about how she looks right now. Yesterday was a great day. All that was missing yesterday were the fans. Everything else was great."
Serengeti Empress' next start is unknown.
"That's a conversation that Joel Politi and I will have later this week," Amoss said.