Unwilling to have his perfect 2020 record marred with a less-than-perfect finish, Bruce Lunsford's Art Collector led at every point of call Aug. 9 in the $193,750 Runhappy Ellis Park Derby at Ellis Park to bring home his fourth consecutive win.
"This is huge," jockey Brian Hernandez Jr. said. "We're going into the Derby now with a legitimate horse. Like we said after the Blue Grass, he's proven he's getting better and better with each race. He showed it again today. He put everyone away. He did it all on his own and ran away from there"
Feeling fresh off his July 11 score in the Toyota Blue Grass Stakes (G2) at Keeneland, Art Collector broke sharply in the 1 1/8-mile Ellis Park Derby and shot to the front of the field. The pair set the early pace in the 12-horse field and clicked off fractions of :23.33, :46.74, and 1:10.70.
Truculent posed the clearest threat through the opening half-mile, putting pressure on Art Collector to the outside. But as the six-furlong mark approached, the colt dropped back sharply, allowing Attachment Rate to find his way to the front in the three path and make a play for the lead.
Any designs by Attachment Rate to overtake Art Collector were short-lived once the field exited the far turn and set down for the finish line. Guided slightly off the rail by Hernandez in the final furlongs, Art Collector put his massive kick on display for the Ellis Park crowd and barreled toward the wire. Left in his wake, the rest of the field struggled to keep up with the frontrunner and fell back.
Unhurried in the final strides, Art Collector arrived at the finish 3 1/4 lengths in front. The final time on the fast track was 1:48.02.
Attachment Rate held for second, followed by Necker Island in third and Rowdy Yates in fourth.
"Our horse broke sharp, and I put him in the race," Hernandez said. "He was going quick enough, but at some point I knew I'd be able to give him a breather. He was able to take a breather going into the second turn. And once he did that, I was pretty confident in him. From the stretch home, he was in himself and cruising along. He seemed to enjoy himself. He went the mile and an eighth impressively today, and we're looking on to the next one.
"I just let him out a little bit, just to let him cruise along. When I got to the eighth pole, I just clucked at him a little bit just to make him go on a little bit just because we need him to be ready for the next one. So we just wanted to get the right kind of race into him, and that's what he did today. He's such a professional horse, and he showed it again today. He was able to go :46 2/5 on the lead and just able to widen on them again. It's a testament to the horse how really good he is. That's quick for a half, especially going a mile and an eighth. That's really fast for a horse. And he was able to do it within himself. He traveled like a winner the whole way. We say that all the time, but being on their back, we have an instinct to know how fast they're going. That's all I wanted to do: I just wanted to stay out of his way and let him travel."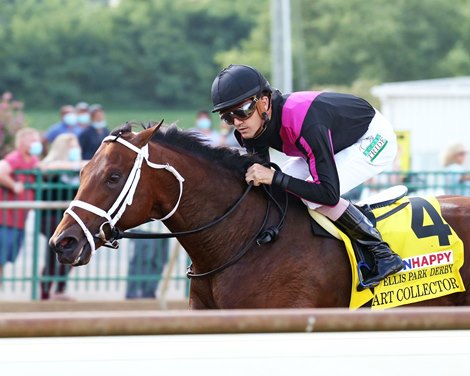 Bred in Kentucky by Lunsford, Art Collector is out of the Distorted Humor mare Distorted Legacy. The Ellis Park Derby awarded the Thomas Drury Jr. trainee an additional 50 qualifying points on the Road to the Kentucky Derby. Art Collector ranks third on the leaderboard with 150 points.
Though the competition for the Sept. 5 classic will be stiff, Hernandez said he's more than confident that Art Collector will be able to hold his own.
"Tiz the Law will be the favorite. But everybody who's going to be there in the Kentucky Derby, they've earned their chance," Hernandez said. "You have to go in there with an open mind and just read your race. The biggest thing we've done through this whole journey is we just have to trust our horse. Let him take us there, and that's what he's doing."
Art Collector opened his sophomore season late because of COVID-19. The son of Bernardini won a May 17 allowance optional claiming race at Churchill Downs. Another allowance-level score followed June 13 at the same track before the colt was moved to Keeneland to test his luck in the rescheduled Blue Grass. Art Collector has a 5-1-0 record from nine starts and earnings of $664,380.
With live racing scheduled through Aug. 30, Ellis Park announced Sunday that it would increase its base purses 20% starting Aug. 14. The increase boosts the purses of all claiming, maiden, and allowance races. The rise comes on top of a $6,000 per-race increase in Kentucky Thoroughbred Development Fund purse supplements announced last week for non-claiming maiden and allowance races.
Video:

Runhappy Ellis Park Derby (BT)