With new equine medication rules expected to go into effect the evening of Aug. 25, the Kentucky Horse Racing Commission has been working to get the word out about the expected new policies.
KHRC equine medical director Bruce Howard said he has reached out to Kentucky horsemen and vets, as well as horsemen in other states, to inform them that the changes adopted earlier this year will likely be fully adopted Aug. 25—putting them in play for the state's next scheduled race date of Aug. 28 at Ellis Park. The Licensing and Occupations Committee of the Kentucky General Assembly has the adoption of the rule changes approved earlier this year by the KHRC on its Aug. 25 agenda.
While there will be a few days between that meeting and the next race date, if adopted as expected, rules would immediately go into effect that could require horsemen to make adjustments as the new standards would immediately be in place. For instance, the withdrawal time for the administration of corticosteroids will go from seven to 14 days before the race. If a horse is entered Aug. 28, it will need to be under the 14-day standard as opposed to the current seven-day standard.
"We don't want anyone getting caught up in a violation due to not seeing the new guidelines," Howard said, noting that he asked about providing a transitional time but was advised by state attorneys that adopted rules have to immediately be applied.
With that in mind, the KHRC wants all horsemen to be aware of the changes that include:
The aforementioned extended withdrawal time for the administration of corticosteroids from seven to 14 days pre-race.
A ban on the use of furosemide, commonly marketed as Lasix, on race day for 2-year-olds. Next year that ban would apply for horses entered in stakes races.
A requirement of 14 days of a horse's medical records at the time of entry, including a clear and accurate record of any treatment administered.
Extension of the withdrawal time for nonsteroidal anti-inflammatory drugs from 24 to 48 hours pre-race.
Elimination of the use of bisphosphonates in racing and in horses younger than 4 years old.
A requirement of an examination by a racetrack veterinarian prior (or that day) of a horse to being entered in a race to improve equine safety and add extra scrutiny of a horse's condition.
Under the anticipated new rules, Howard also noted that race-day therapies will be restricted to nebulizers. Spas, cryotherapies, and magnet wave treatments will be prohibited.
With the new standards taking immediate effect and the corticosteroid time going from seven to 14 days, that change is the one Howard wants to emphasize and ensure horsemen are aware.
"It's going to go back a ways from the date, so it's important that we get all this information out," Howard said. "I started about two or three weeks ago letting all the veterinarians who are licensed by the KHRC know. I've sent these notifications out to all the different horsemen's groups."
It will be a busy time for Kentucky racing that figures to see horses from throughout the country being shipped in to compete as the Runhappy Ellis meeting continues through Aug. 30, Churchill Downs begins its Kentucky Derby Week racing Sept. 1, and the lucrative Runhappy Meet at Kentucky Downs begins Sept. 7.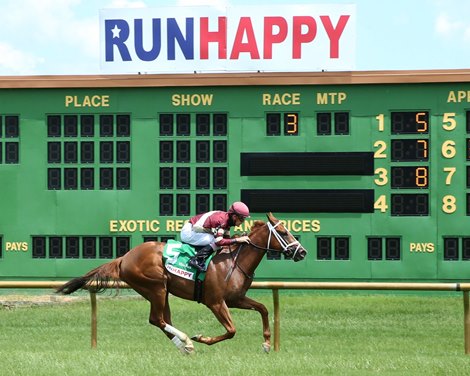 With that in mind, Howard also has informed horsemen beyond the state borders of the anticipated changes as he doesn't want horsemen to make a mistake simply because they're not aware of the new rules.
"I've notified a lot of the major states that would have horses coming into Kentucky for racing—California, Florida, New York, Maryland, Ohio, Indiana, Illinois, and others," Howard said. "I've just been trying to cover everything. We don't want people caught up."
Howard encouraged track veterinarians and horsemen to read over the new rules. For instance, there are new standards aimed at eliminating stacking. He said people should pay particular attention to withdrawal times for any secondary NSAIDs. He said the language is pretty clear on how to avoid an overage of NSAIDs.
Complete Kentucky medication rules, withdrawal times, as anticipated to be in place Aug. 25
Horsemen already have made adjustments as some of the rules, like the Lasix standards, have been put in place as house rules at Kentucky tracks that have been running.
In terms of reporting two weeks of a horse's medical records, Howard has encouraged vets to use The Jockey Club treatment record database. Howard has sent out a link to that database to racetrack vets.
As for getting a veterinary exam before entry, Howard noted that some language was added to that rule that would allow horsemen to enter the horse and still get the exam from a track veterinarian on that day. He noted the wording was added to allow for late entry and give the trainer time to enter and still have the horse evaluated.
The requirement of a veterinary exam on the date of entry standard already was in place as a house rule at Churchill Downs and Keeneland.