The first crop by Arrogate falls into two groups where conformation is concerned, according to Juddmonte Farms' general manager Garrett O'Rourke: those that favor Arrogate as big, strapping two-turn types, and those that have physiques indicating more preciousness and speed that favors the stallion's broodmare sire Distorted Humor .
What almost all of them seem to possess, however, is Arrogate's attitude.
"His temperament, perhaps, is coming through the strongest of anything; that relentlessness that won him an awful lot of races," said O'Rourke during a break from inspecting Book 1 horses for the Keeneland September Yearling Sale. "The people we've talk to say these horses are strong-minded, courageous, tough horses that like to rough and tumble. He was like that himself."
Seeing the talent underscores the magnitude of the loss Juddmonte suffered earlier this year when Arrogate, a 7-year-old son of Unbridled's Song, was euthanized June 2 after incurring a neurological injury to his spinal cord.
"He had a core lesion in his spinal cord that basically rendered him a quadriplegic," said O'Rourke. "We don't know exactly how it occurred. He didn't have a fall or major accident that was obvious to have caused it, other than he was a horse that was always rearing and bucking and playing about. Some kind of whiplash effect might have caused what was more than a million-to-one shot, more like a 20-million-to-one shot."
O'Rourke said the stallion started to show signs of trouble one morning after covering a mare. Two days later, he collapsed in his stall.
"He was standing in his stall and shook himself a few times early one morning, we have it on the security camera, and then just collapsed and never got up again. It wasn't until the postmortem that we discovered his spinal cord had a lesion that would not have repaired. It was heartbreaking," he said.
Now O'Rourke said he looks forward to seeing Arrogate's progeny prove themselves in the most important races worldwide, as Arrogate did.
Arrogate carried the top fee of $75,000 when his sire class entered stud in 2018. Victories in four graded stakes supported that fee. He earned the 2016 champion 3-year-old title after scoring five consecutive wins that culminated in victories in the Travers Stakes (G1)—which he won by 13 1/2 lengths while breaking a 36-year-old track record for 1 1/4 miles—and the Breeders' Cup Classic (G1), in which he beat 2016 Horse of the Year California Chrome .
He kicked off his 4-year-old season by winning the inaugural $12 million Pegasus World Cup Invitational (G1) in track-record time and followed with an astounding last-to-first win in the $10 million Dubai World Cup Sponsored By Emirates Airline (G1). Arrogate retired with a 7-1-1 record from 11 starts.
Arrogate was out of the Distorted Humor stakes winner Bubbler, who also has produced stakes winner Osare (Medaglia d'Oro ) and is a half sister to stakes winner Unbridled Femme (Unbridled). Bubbler's granddam is six-time grade 1 winner and champion Meadow Star.
After the Sept. 9-10 Fasig-Tipton Select Yearling Showcase, Arrogate, Three Chimneys Farm's Gun Runner , and Claiborne Farm's Mastery rose to the top of their sire class by average price. Gun Runner led with a $331,429 average from seven sold, followed by Mastery with a $257,143 average from seven sold, and Arrogate with a $256,667 average from six sold.
Arrogate's top seller at the Fasig-Tipton sale was a $400,000 colt (Hip 393) out of the Smart Strike mare Succeeding that Breeze Easy bought out of the Hill 'n' Dale Sales Agency consignment. None of Arrogate's progeny in the Fasig-Tipton sale sold for less than $100,000. Two fell short of their reserves.
As of Saturday, he had 51 horses set to go through the ring at Keeneland.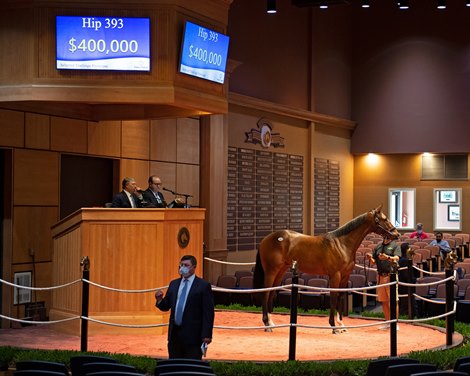 "He has a few stars at Keeneland that have the look and appearance of big, two-turn classic horses, like him. They should sell accordingly," O'Rourke said.
"Everyone knows where the big prize money is in this game—the Breeders' Cup Classic, the Travers, the Dubai World Cup, and now the Saudi Cup. Everybody wants those mile-and-an-eighth, mile-and-a-quarter horses, and his offspring should be set up to be fully competitive in these races," O'Rourke continued. "We were prepared to breed these types of horses for the next 15 years and then the carpet gets pulled out from underneath. We're obviously sorry for (Juddmonte owner) Prince Khalid (Abdullah) and Juddmonte, but also sorry for the industry as a whole. We like to admire the superstars of the sport right on through their stallion careers and that has been taken away from us. Hopefully something in the crops that he has will continue his legacy."