One of Thoroughbred horse racing's most prestigious international events is coming back to the Bluegrass in 2022.
Keeneland, set to host the Breeders' Cup World Championships Nov. 6-7 in Lexington, will again be home to the championship event after an already scheduled 2021 running at Del Mar, it was announced Sept. 12.
The return to Lexington gives those who will miss out this year due to COVID-19 a chance to attend. In a development viewed as almost inevitable due to the ongoing pandemic, Breeders' Cup confirmed Saturday that the 2020 edition will be conducted without fans on the grounds. On-site attendance will be limited to essential personnel required to run the races, along with participants such as owners, horsemen, and jockeys, Breeders' Cup said.
Breeders' Cup also announced Saturday that the 2020 event will be run for $31 million in purses and awards, the same amount as in 2019. A $4 million purse increase announced earlier this year has been postponed until 2021.
While 2020 purses and awards will decrease from what was originally planned before the pandemic, Breeders' Cup president and CEO Drew Fleming said maintaining the levels paid out in 2019 demonstrates his organization's commitment to the industry.
"That was a very easy decision on our end in a year when everybody is making very difficult ones," Fleming said Saturday during a conversation with BloodHorse. "The reason for maintaining our 2019 purse levels was simple. The nominators have always been there for Breeders' Cup since the beginning, and in times like this, it's important for Breeders' Cup to be there for the nominators."
With purses of $6 million and $4 million, the weekend's Longines Breeders' Cup Classic (G1) and Longines Breeders' Cup Turf (G1T) remain two of the richest races in the world.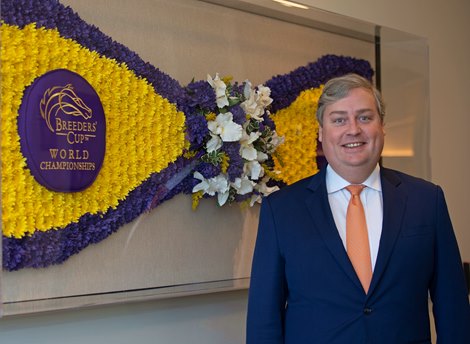 Breeders' Cup follows in the footsteps of the Sept. 5 Kentucky Derby Presented by Woodford Reserve (G1), which was ultimately held without fans at Churchill Downs. Tracks across the country have conducted major races without fans in a similar manner due to COVID-19, with the June 20 Belmont Stakes Presented by NYRA Bets (G1) and upcoming Oct. 3 Preakness Stakes (G1) at the forefront, along with the entire summer meet July 16-Sept. 7 at Saratoga Race Course.
Host tracks saw a significant decline in all-sources handle on the Kentucky Derby and Belmont Stakes cards, but the Saratoga meeting offered a glimmer of hope. When the meet concluded on Labor Day, the New York Racing Association topped the $700 million mark in all-sources handle for a second year in a row, finishing with a total of $702,535,468. Even without fans on hand, the figure was a mere $3 million below the record $705.3 million handled in 2019.

"I think it's also important to note that general U.S. handle has done very well during the pandemic," Fleming said. "Despite a significantly decreased number of races, especially earlier in the year, handle has continued to be strong. We're obviously monitoring that very closely, but we've had great discussions with many trainers both domestic and abroad who look forward to running their horses in the Breeders' Cup, and great field sizes and the best horses in the world lead to great betting. We have great fans, and we're anticipating great wagering."
While on-site attendance at sporting events in Kentucky has been limited since the state began to feel the impact of COVID-19 in March, the University of Kentucky football team will allow a limited number of fans to attend its home games this year, the first of which is slated for Oct. 3. The University of Louisville is also admitting fans to its games at 20% capacity in a season that began Saturday.
Those accessing the grounds at Keeneland in November will be subject to strict guidelines and protocols put in place as part of the organization's comprehensive COVID-19 health and safety plan, details of which will be announced closer to the event. The decision to run without fans was made after consulting with Kentucky Gov. Andy Beshear, Keeneland, local and state government and public health officials, and independent medical experts "to fully assess the conditions under which major sporting events may expect to operate safely in the coming months," Breeders' Cup stated in a release.
"The decision to hold this year's Breeders' Cup World Championships without fans in attendance was not made lightly," Fleming said. "However, after many months of careful deliberation, planning, and consultation, it has become abundantly clear that this is the right decision in order to proceed with our event while still protecting the collective health of our community. Despite many major racing events reducing purses significantly, we are proud to be able to maintain 2019 purse levels to support our nominators and horsemen during this challenging year."
Fleming also told BloodHorse that the Breeders' Cup has retained infectious disease specialist Dr. Richard Greenberg as a chief medical consultant.
Beshear, a Democrat, praised the organization's decision to run without fans via Twitter on Saturday, but not all feedback was positive. Kentucky State Representative Adam Koenig (Republican, Erlanger) called the decision "sad and frustrating."
As we continue to battle COVID-19, I applaud @BreedersCup for helping to slow the spread of the virus by making the responsible and right decision to race without fans. We are also very excited that the Breeders' Cup will return to @keeneland in 2022!

— Governor Andy Beshear (@GovAndyBeshear) September 12, 2020
"I've been to Ellis Park twice this year," Koenig tweeted. "I may have been to Kentucky Downs twice. Indiana Grand has patrons every day. There are others that have patrons. This can be done in a safe and reasonable manner."
Ellis Park and Indiana Grand have raced with limited attendance and strict COVID-19 safety protocols in place. Kentucky Downs is currently racing without patrons.
Kentucky Senate Floor Majority Leader Damon Thayer Damon Thayer, a vocal critic of the way Beshear's office has handled the COVID-19 crisis, was even more succinct in his criticism. "This is a terrible decision," tweeted Sen. Thayer (Republican, Georgetown), who worked as vice president of event management for Breeders' Cup from 1999-2007.
All 2020 ticket holders will receive a full refund and will also be granted first access to purchase the same or similar tickets for the 2022 Breeders' Cup World Championships at Keeneland.
"While we are disappointed that we will not be joined by our fans on-site this year, our utmost priority is and always will be to conduct the Breeders' Cup World Championships in the safest way possible," said Fred Hertrich III, chairman of the Breeders' Cup board, which approves all host sites. "Lexington's local community of racing fans, businesses, and members of the Thoroughbred industry are the backbone of our sport, and we believe they deserve a second opportunity, in short order, to experience the event at its full potential."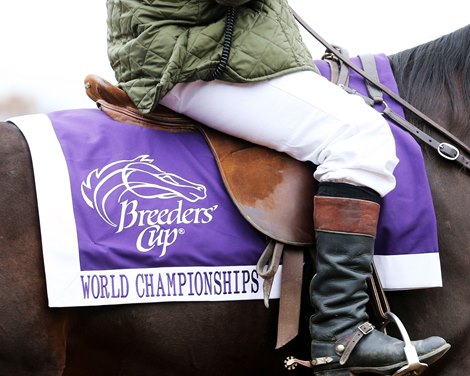 The 2022 edition of the Breeders' Cup will mark the third time Keeneland has hosted the event since it first welcomed the World Championships in 2015. That year, Triple Crown winner American Pharoah electrified the world by becoming the first horse to win the Triple Crown and the Breeders' Cup Classic.
"While the World Championships will look different this year, Keeneland and Breeders' Cup remain committed to making the event the best it can be," said Bill Thomason, Keeneland president and CEO. "We are grateful to continue providing a platform for our athletes and horses to showcase their talent, and we are excited for the event to return in 2022, when fans can experience the full spectacle of Breeders' Cup in the Bluegrass as we originally intended."
Keeneland will run its fall meet Oct. 2-24, and has not announced whether it will allow fans to attend. After cancelling the spring meet due to COVID-19, the Lexington oval ran a brief summer meet in July without fans.
Breeders' Cup is working with its official broadcast partner, NBC Sports, to develop and introduce innovative and enhanced production elements that will enhance the viewing experience for the influx of horse racing fans who will be watching the races from home. The organization is also implementing advanced technologies across its own digital platforms and channels to further engage with fans at home. The event will be broadcast live on NBC, NBCSN, NBCSports.com, and the NBC Sports app.
For those responsible for organizing the event known as horse racing's Super Bowl, the show must go on—as it has at various tracks across the country in one way or another, with ups and downs along the way.
"Racing was uniquely positioned because unlike other sports that have a lot of human-to-human interaction, in racing we also have these special animals that require daily care regardless of what's going on in the world," Fleming told BloodHorse. "And from taking care of them to running them is not a major difference. That our sport has been able to continue on in the midst of the pandemic is also a great testament to the people who take care of the horses every day, who enable us to continue racing.
"Breeders' Cup has been in a position where we have had the benefit of looking at what other major sports have been doing, especially as we learn more about COVID-19. It's very much a fluid situation, and things can change quickly. We have a great team in place and a supportive board. We're anticipating the unexpected, and we'll be judged on how we adjust accordingly."