This year's Inglis Melbourne Premier Yearling Sale has achieved its highest ever trade, surpassing the Victorian benchmark set in Melbourne in 2017, as the increased demand for bloodstock makes it four record Australian Thoroughbred auctions conducted in succession so far in 2021.
The new benchmark for the major Victorian auction was helped by the sale of the $1.1 million Written Tycoon colt, only the second seven-figure yearling traded at Oaklands Junction, and buyers' increased willingness to spend more on yearlings at the top-end of the market.
That demand for high-end yearlings fueled prices for colts such as a son of Lord Kanaloa that sold for AU$900,000 (US$698,053) March 1 and two colts by Shalaa and I Am Invincible making AU$700,000 ($542,930) each in the main session. A total of 37 horses made AU$300,000 ($232,684) or more across the three days of trade.
"At this stage, the Premier Session has grossed $63 million which is a fantastic number and it certainly exceeds the previous record set in 2017 of AU$54 million," said Inglis managing director Mark Webster yesterday as selling at the Showcase Session continued.
"Last year, it was AU$48 million, so compared to last year, it is up 30% and it is up 20% on the previous record in 2017, which is quite remarkable. There were a similar number of horses offered in both of those years, so quite clearly there's more demand and it's more at the top of the market.
"We're selling double the number of horses over AU$300,000 compared to last year, so the top of the market is very strong."
As evidenced at other sales so far this year, the depth of the buying bench has been underpinned by a roaring local market as owners and trainers look to cash-in on renewed interest in the sport while record prize-money is up for grabs on the racecourse.
"If we look at who has been buying, there's 16 to Hong Kong, four to Singapore, eight to New Zealand (in the Premier Session)," Webster said.
"It is good to have them participating, but the reality is that they are small numbers compared to any normal year here. This sale normally relies on 25 to 30% international participation and we are a long way from that. We're around 5%, so it really has been the domestic market which has been carrying the sale."
The Magic Millions Gold Coast, Perth and Tasmanian yearling sales all achieved record aggregates, as did the Classic sale when Inglis opened its 2021 yearling sale series last month.
"I am completely stunned, really, and it was the same after what happened at the Classic sale, which was up 20%," the long-serving Webster said. "This sale is up 30%. It is remarkable and I can only put it down to the fact that racing is strong here. Some people have probably also seen the lack of internationals as a chance to get back involved or go a bit harder than perhaps they might normally do.
"With every negative, there's a positive and perhaps the locals figure it is a good thing for them to be able to buy what they want without the internationals here."
Moroneys Continue to Take Shine to Toronado's Progeny
The most expensive lot sold March 2 was an AU$460,000 Toronado half brother to 2018 AAMI Victoria Derby (G1) winner Extra Brut.
The colt is also the highest-priced yearling by the Swettenham Stud shuttle sire ever sold in the southern hemisphere and was bought by Flemington-based Mike Moroney, who trains The Amanda Elliott Springtime Stakes winner Shelby Cobra by the Swettenham Stud stallion, in conjunction with his agent-brother Paul.
"We've had luck with Shelby Cobra and have three or four other Toronados at home. I've even bred mares to him," Mike Moroney said. "I saw him win at Royal Ascot when we were there and have followed him all the way through. I just loved the colt, I really thought he was a wonderful colt, He's a great walker and a really athletic sort of horse."
Offered as Lot 584 by Stonehouse Thoroughbreds on behalf of Congupna-based breeder Andrew McDonald, the colt is a half brother to Extra Brut as well as Grinzinger King, an unraced 2-year-old gelding, who made AU$380,000 ($247,286) at last year's Premier sale.
Raced by John Wheeler, the principal owner of group 1 winner Russian Camelot, Grinzinger King is also in training with Danny O'Brien. The dam is the four-time winner Dom Perion who has a Justify filly at foot and is in foal to Lonhro.
The Moroneys bought nine yearlings in the Premier Session for a combined spend of AU$1.88 million ($1,458.160), while the siblings added a further two from the Showcase Session for a total of AU$130,000 ($100,830).
"We thought if there were colts here that we liked, we didn't mind spending a little bit of money," the trans-Tasman group 1-winning trainer said.
"We had only bought one at Magic Millions and we were pretty quiet at New Zealand as well, and they were mainly for the New Zealand stable.
"I thought we'd have a go here or save our powder for Easter, which I think will be pretty strong, This colt would have stood out very well up there as well."
Eddington-based Stonehouse Thoroughbreds' Ryan Arnel had the Toronado colt on the market from the AU$200,000 mark but he was confident the horse would fly past that figure.
"We sold the full brother to Extra Brut last year and he's in work with Danny O'Brien and he's looking like a stakes-performing horse at the moment," Arnel said. "We are a Victorian farm and the market that we most want to support is the Victorian trainers, so we are always trying to present them to those trainers.
"For the horse to go to Ballymore and Mike Moroney for Paul Moroney Bloodstock, it is the perfect result for us. We couldn't think of anywhere better for that horse to be."
Stonehouse Thoroughbreds sold 17 yearlings for an aggregate of AU$2.435 million ($1,888,620) at an average of AU$143,235 ($111,095).
"We've seen throughout the year that the market is strong and, in a situation like that (with the Toronado colt), you have to let the market dictate the sales prices," Arnel said. "If your horses are in the market, you are getting the true value of the horse. There is so much demand out there at the moment that all the horses find their homes and find their place within the market."
The continual upward trend of the Australian market has surprised a conservative Moroney.
"I seem to get it wrong every year. I keep thinking it's going to bottom out and it doesn't," he said. "It's pretty obvious that there seems to be money around, It's been hard buying this year and trying to get your head around it going up each year is hard to do.
"But it has, and the facts are that you have to deal with it if you want to go out and get nice horses to train."
'Choisir Filly Has Black Caviar and Jameka Qualities'
The second highest-priced horse on the last day of the Premier sale, an AU$400,000 ($310,246) daughter of Choisir, deserves to be on the podium alongside breeder Rick Jamieson's champion mares Black Caviar and Jameka, according to Kelly Skillercorn.
Gilgai Farm manager Skillercorn made the stunning comparison between Jamieson's two star Premier graduates and the Choisir filly who was bought by trainers Adrian Bott and Gai Waterhouse, with the assistance of Kestrel Thoroughbreds' Bruce Slade, early in the final session.
"We've brought some good fillies here and I would rate her top-three and I mean we've sold Black Caviar and Jameka here, so hopefully she lives up to them," Skillercorn beamed. "She is as good as we have brought here. The last good horse I brought here who I was bragging about was Masked Crusader.
"We sold Ole Kirk here, but with Masked Crusader, I was certain he was going to be a good horse and I am certain she is going to be a good horse. She has been a queen ever since she was born.
"She has been the leader of the mob. She's never had a sick day and she's just thrived the whole time."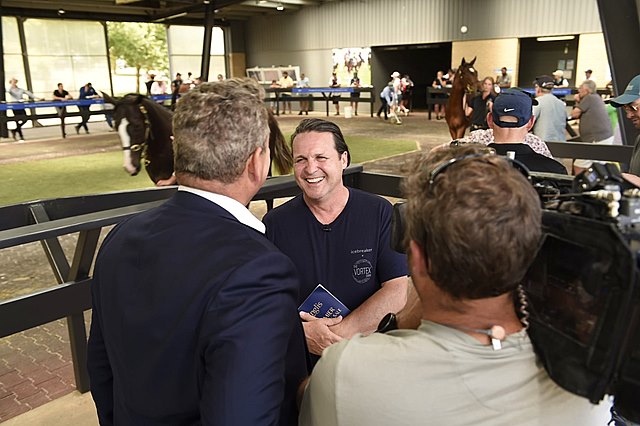 Gilgai Farm sold the unbeaten mare Black Caviar for AU$210,000 ($197,337) at the 2008 Oaklands Junction sale before Jameka, a subsequent three-time group 1-winning mare, made AU$130,000 ($116,181) at the 2014 auction.
Jamieson bought New Zealand Bloodstock One Thousand Guineas (G1) winner Costa Viva, the 2013-14 filly of the year and the mother of the Choisir filly, for AU$400,000 ($300,160) at the 2018 Magic Millions Gold Coast National Broodmare Sale to specifically send to the now-pensioned Coolmore stallion Choisir.
Yesterday's highest-priced filly, cataloged as Lot 560, is the third living foal out of Costa Viva, herself a half sister to the stakes-placed Tarcoola Spirit. Her second dam is the group 3 winner Vivacious Spirit.
"The cross is 13% stakes winners to runners and I wouldn't imagine he (Choisir) has been bred to many group 1-winning mares by Encosta," Skillercorn said.
"She is the first foal Rick has bred out of the mare as we bought her in foal to Pride of Dubai and she was bought to go to Choisir. He was a proper mating for the mare in Rick's mind and we've got a colt foal out of her to follow by Choisir as well."
Costa Viva was not covered last season but is set to be covered by the Jamieson-bred and part-owned dual group 1-winning colt Ole Kirk who was this week officially retired to Vinery Stud to stand the 2021 season.
Sales and bloodstock manager Claudia Miller was left in charge of the bidding process by Waterhouse and Bott, who had already returned to Sydney. She outlasted Rosemont Stud to secure the filly.
"She was easily the pick of the fillies for us at this sale. Obviously, Rick Jamieson is an exceptional breeder and she is out of a top-class New Zealand mare, a group 1 winner, and that Choisir-Encosta de Lago cross is exceptional, so she was a no-brainer for us," Miller said.
"We got here last Monday and Rick Jamieson's was one of the first drafts we went to, so she was on our radar from day one."
The leading vendor of the Premier Session was Blue Gum Farm, which sold 25 yearlings for a combined $5.205 million ($4,037,070) while fellow Victorian vendor, Bruce Wilson's Glentree Thoroughbreds, led the way by average, selling six yearlings at an average of AU$330,000 ($255,933).
The leading buyer was Ciaron Maher and David Eustace, who signed for 17 yearlings in the main session with the help of a number of partners. The leading sire was Written Tycoon, who had 14 lots sell for a total of $3.6 million ($2,792,210).
I Am Invincible was the leading sire by average (three or more sold), with seven of his yearlings selling for $314,286 each.
Two Colts Fetch AU$175,000 in Showcase Session
The honor for highest-priced Showcase Session yearling was shared by a Flying Artie half brother to the New Zealand group 2-placed Shezathinka and a Written Tycoon colt, the third last lot of the day. They were both sold for AU$175,000 ($136,733) after New Zealand agent Bevan Smith signed for the son of Flying Artie for client Kuldeep Singh Rajput from Singapore. The Byerley Racing Club bought the Milburn Creek-consigned Written Tycoon colt.
The second session also marked the last time Simon Vivian, Inglis' retiring Victorian bloodstock manager, would auctioneer at Oaklands Junction at a Premier sale.
The next sale on the calendar is next week's Magic Millions Adelaide Yearling Sale, which stakeholders are already spruiking as the best catalog the South Australian sale has been able to put together.