Less than a decade ago, former jockey agent Nick Cosato formed Slam Dunk Racing with the hopes of having a little fun with friends on Saturday afternoons. But success soon found the racing outfit in the form of stakes winners like Beau Recall and Madame Dancealot, who thrust Slam Dunk into the spotlight. Now with 80 horses in the stable and a fresh crop of stakes talent burning up the track, BloodHorse MarketWatch spoke with Cosato about the inspiration behind Slam Dunk, how he made the move from racing to breeding, and what he's most looking forward to in 2021.
MarketWatch: What made you want to start your own racing operation?
Nick Cosato: I was an agent for almost 25 years and I got out of the game—I was still involved I just wasn't working for a jockey and i didn't have any horses—but one day I thought I would put a small group together with maybe six of my friends. I had some buddies who were interested in the ownership side of the game. I thought maybe we'd have a dozen horses, but the next thing I know, I have about 20 partners and 80 horses.
Then my son, Ryan, who is my right arm, grew up watching me as a jockey agent. His grandfather on his mother's side was an ex-jockey and trainer, so he was pretty much born into the game. I told him when he hinted to me that he wanted to be a jockey agent, that he would have to finish school or he would kind of be on his own. I told him if he graduated, I would do anything to help him. Truth be told, I was hoping a bit that his interest in the game would wane because I know how tough this business is. He went to Arizona State and when he graduated, he said, "Dad I did it. I want in the game."
Ryan now works for Slam Dunk and he has helped me be able to grow this so much more. I was doing everything in the initial stages and I desperately needed someone to work for me and he fit that perfectly. It's seamless with the two of us. He has a passion for the game and he's fantastic with the partners. It's a match made in heaven. We have great partners behind us which makes it easy and they know that we will always try to do our best. I'm an all-or-nothing guy and I have been my whole life and that's either a blessing or a curse. So in the middle of this I also started buying broodmares—none of my partners are involved in the breeding operation, I do that myself—and it just keeps growing.
MW: Why did you decide to go into breeding for yourself?
NC: A little bit of craziness and quite a bit of passion for the game. I'm an animal lover and (breeder) John Liviakis wanted out of a lot of mares—I think I got four from him at one time—then I added a couple more mares that we raced. Partners didn't really want to be involved with breeding so I said, "I'll take these horses on and see what we can do." The man above has blessed us in that and given us some good fortune.
I hate to use the work "luck" because I'm not a big luck guy. I think that it's where hard work meets opportunity. Not a whole lot of people can continue to be lucky. If they're getting lucky that often, they're putting in the work. When you're consistent, you aren't lucky.
MW: What portion of the foals you breed do you keep and what portion do you sell?
NC: I would say it's about 50/50. I have the dam of Whitmore, Melody's Spirit, and I sold a foal out of her two years ago as a yearling. She had another foal by Arrogate that I entered in the sales in September last year but I bought it back. A lot of my mares I bought at a lower-level and I knew they weren't really commercial so I knew the odds were I would likely end up racing the foals and I was OK with that.
I would love to be able to breed to sell because obviously you know if you're doing that going in, you're there to play at a high level. But I'm a one-man band and I'm not a trillionaire. I'm just an ex-jockey agent who did fairly well and I was fortunate. I bought many of these mares on the cheap and hoped they would pan out. Now, if they ever get to a level where they are worth a lot of money I will likely have to part with them because I don't play at that level. I can't sink $200,000 or $300,000 in stud fees to breed a mare like that. If that comes, that will be a good thing and we will have to part.
MW: As the breeder of Claiborne Farm Swale Stakes (G3) winner Drain the Clock—whom you race in partnership with Madaket Stables, Wonder Stables, and Michael Nentwig—it must be very rewarding to watch him succeed on the track alongside the horses that you purchased.
NC: I now have nine mares and we've just been blessed and fortunate to breed a horse like Drain the Clock. I'm still uncertain, but to me, I told Sol Kumin when he bought in to the horse as well as Bradley Weisbord—who was his agent on the deal—I told them both, "This horse will have to drag us to the Derby." We all thought that he was a brilliant sprinter. We are not going to ruin him by trying to run him longer distances, which isn't in his best interest, for the sake of gratifying us so that we can say we have a Derby horse. I think our horse is better suited to distances up to a one-turn mile. Most likely, we will go back to shorter races with him and when he's doing what he wants to do, he will reward us.
It's tough to buy a horse like Drain the Clock. We have all of our broodmares at War Horse Place in Kentucky and Rachel (Holden), the farm manager there, is fantastic. She's around these horses all the time and you develop a connection with them. So it's ten-fold on the gratification for the farm and for us to see them succeed.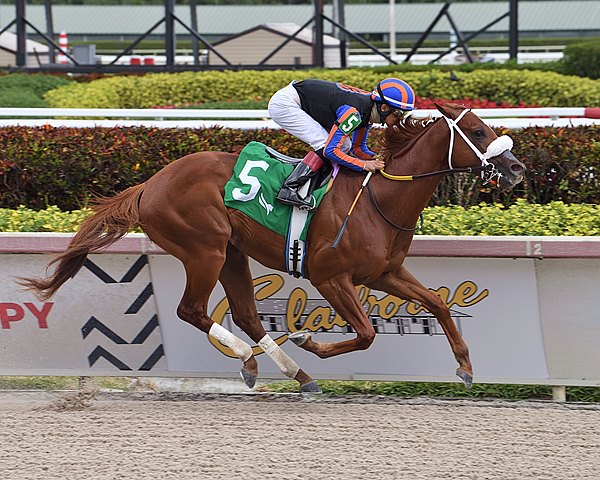 MW: Is Drain the Clock's dam, Manki, back in foal?
NC: She has a Mineshaft colt that we love and she is in foal to Vino Rosso and due to be bred back to Maclean's Music . Hopefully she has a big, beautiful foal by Vino Rosso. I'm anxious to see what transpires with that mating. I've had quite a few offers from people to buy her and it's so crazy. A few months ago we were talking about possibly selling Manki. She hadn't really had a fair chance but she's only 10. Suddenly, she pops up and has a great foal and now she's on everyone's list. Now, I'm just really excited to see her new foal and see where we go from there. With first year stallions like Vino Rosso, you never know what they will throw but the anticipation is there.
My son, he actually convinced me to keep Manki. Ryan calms me down because he knows I like to spend and I like to buy so he really helps temper my enthusiasm in all this. I need that. When he tells me I need to keep one, it really speaks volumes to me and makes me really think about the decision.
MW: Are there any particular runners racing with Slam Dunk that you're excited to see return in 2021?
NC: It's the most exciting year we have ever had. Maxim Rate is coming back, she's looking really good. Vertical Threat is coming back. Drain the Clock of course will continue to run ... it's an exciting year. Plus we have yearlings we bought, so there is a lot of positive upside and a lot of good things on the horizon for us.
MW: Do you have any plans to shop the upcoming juvenile sales to add to your stable?
NC: I just booked our tickets to the OBS (Ocala Breeders' Sales) March Sale. We've had pretty good luck at those sales. I personally like buying 2-year-olds better than yearlings. Granted, you do pay a bit more but I like the security in being able to see them on the track. I was super apprehensive about the market last year but COVID-19 really didn't hit until March. The March sale, while it was affected by the virus, I think it was interesting because even though there was insecurity, the market was still strong. Now with cases dropping, I think the sales will be strong this year.
It's still amazing to me how the industry has propelled itself forward in these times. For example, on Santa Anita Park's opening day, there were no fans and that day they break the handle record. It's almost uncanny. How can that happen? If COVID-19 hadn't hit and it was still a regular opening day would we have done that?
When you look at that, fortunately for us in this game, COVID-19 hasn't hit us as hard. I think when sports were on the back burner, people turned to racing—especially gamblers—because people needed something to watch to get their mind off of what was happening in the world. By and large, we showed things could stay open and function and do it safely instead of shutting down and tanking the market. I'm anxious to see what this summer will hold.