Apparently neither lightning nor an infamous Saratoga downpour can slow trainer Steve Asmussen's pursuit of the sport's all-time wins record or the ascent of Jackie's Warrior into a force for the Breeders' Cup.
After lightning and rain delayed the start of the Aug. 1 Amsterdam Stakes (G2) for 3-year-olds by about 30 minutes, J. Kirk and Judy Robison's Jackie's Warrior handled the soaked track at Saratoga Race Course like a speed boat, gliding to an easy, 7 1/4-length victory in the $200,000, 6 1/2-furlong stakes.
"I wouldn't be scared of running him against anyone at one turn," Asmussen said about the son of Maclean's Music . "And how do I measure that? We've had some good ones and he's one of them."
Asmussen, a Hall of Fame trainer since 2016, has had plenty of "good ones" in his career, explaining why Jackie's Warrior was the 9,442nd victory of his career, putting him just three shy of Dale Baird's all-time record of 9,445.
"Any day you have Jackie's Warrior win the Amsterdam like that you feel pretty good as a trainer, but we are three wins away (from the record) and we'll have to pick up our slack at Louisiana Downs the next few days," Asmussen said.
Asmussen has one horse entered Aug. 2 at each of three tracks (Louisiana Downs, Colonial Downs, and Indiana Grand Race Course), and four at Louisiana Downs and one at Indiana Grand the following day.
Jackie's Warrior has accounted for six of those 9,442 wins and tacked on the latest one as he returned to the track that skyrocketed him to prominence while atoning for a race that could have added another win to Asmussen's glittering total.
Winner of the Saratoga Special Stakes Presented by Miller Lite (G2) and Runhappy Hopeful Stakes (G1) at the Spa in 2020, Jackie's Warrior came into the Amsterdam after a runner-up finish behind Drain the Clock at even-money odds in the June 5 Woody Stephens Stakes Presented by Nassau County Industrial Development Agency (G1) at Belmont Park over a good track. Jackie's Warrior broke slowly and was steadied by jockey Joel Rosario that day, then rushed out to grab a short lead over Drain the Clock in the seven-furlong Stephens. Fatigue caught up with Jackie's Warrior in the final furlong as Drain the Clock prevailed by a neck.
In Sunday's rematch of the two Maclean's Music 3-year-olds, it was no contest once the weather cleared.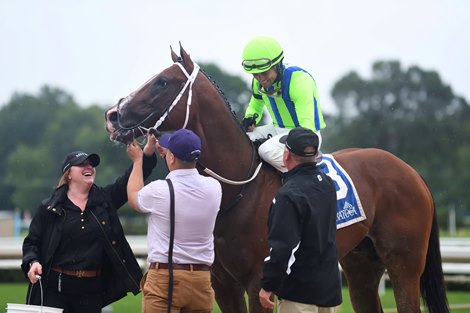 "They are great here in informing you with where you're at and what you're doing," Asmussen said. "(State steward Braulio Baeza Jr.) and everybody else covered what they were looking at as far as the lightning and the delay. I don't care if it's an hour or a week, we'll show up."
This time, Jackie's Warrior broke smoothly for Rosario and dueled for the lead with the Saffie Joseph Jr.-trained Drain the Clock through a quarter-mile in :21.46.
"We got caught being overconfident last time," Asmussen said. "(Rosario) helped him away from there today and held him together and the horse ran extremely well."
The 1-2 favorite pulled away on the turn through a half-mile in a blazing :43.85 and never looked back.
"He's fast and then he just keeps going," Rosario said.
Ahead by five lengths in mid-stretch, he crossed the wire in 1:15.46 over a sloppy, sealed surface to post his first victory on a wet track. Besides the Stephens, he was third in the Southwest Stakes (G3) on a sloppy surface in February.
"He's a very special horse and he's showed that on many occasions. He gets the respect that I think he deserves and it's extremely fun to watch him run," Asmussen said. "He will have a lot to say in the one-turn division."
Bred in Kentucky by J & J Stables out of the A. P. Five Hundred mare Unicorn Girl, Jackie's Warrior is his dam's third foal and first stakes winner. He was purchased for $95,000 at the Keeneland September Yearling Sale as part of the Taylor Made Sales Agency consignment.
Unicorn Girl also has a 2-year-old Candy Ride filly named Lenni Girl who has yet to race and a yearling American Pharoah colt.
Grade 1-winning Drain the Clock, owned by Slam Dunk Racing, Madaket Stables, Wonder Stables, and Michael Nentwig, ran on for second by a length over Klaravich Stables' Crowded Trade in the field of six.
A son of More Than Ready trained by Chad Brown, Crowded Trade made his first start since finishing fifth in the May 15 Preakness Stakes (G1).
Asmussen said the Aug. 28 H. Allen Jerkens Memorial Stakes (G1) at seven furlongs would be next for Jackie's Warrior. The $500,000 stakes for 3-year-olds is contested at Saratoga where the bay colt is now 3-for-3.
"Jackie's Warrior's résumé here at Saratoga is hard to match," Asmussen said. "This race was to get back on track for the Jerkens."
Video:

Amsterdam S. (G2)