The pace picked up Sept. 14 at the Keeneland September Yearling Sale as Book 1 came to a close with a second day of selling. After just three horses achieved seven figures on Day 1, eight yearlings broke into the $1 million bracket Tuesday, topped by a son of Quality Road sold for $1,600,000 to Woodford Racing and West Point Thoroughbreds.
From 203 horses cataloged to Day 2, Keeneland reported 112 yearlings sold through the ring and seven sold privately for an average price of $451,807 with gross receipts of $53,765,000 and a median price of $400,000. The Day 2 RNA rate was 30%, as 48 horses failed to meet their reserve for the session compared to 75 horses that failed to meet their reserve in 2020 at an RNA rate of 42.8%.
Cumulatively in 2020, 209 horses sold during Book 1 with a gross of $85,215,000 for an average price of $407,727, an RNA rate of 39.6%, and a median of $335,000. This year Keeneland reported 221 horses sold cumulatively in Book 1 (208 through the ring and 13 private sales) for gross receipts of $93,482,000, an average price of $422,995, and a median price of $335,000. A total of 95 horses went unsold in Book 1, for a cumulative RNA rate of 30.1%.
Keeneland continues to update its statistics with post-sale purchase prices, which can cause later changes to overall numbers.
Six colts (Hips 300, 331, 333, 286, 376, and 309) and two fillies (Hips 356 and 223) lit up the ring for $1 million or more compared to the nine sold in 2020 on the second day. The top 10 horses were purchased by a diverse group of buyers, with nine separate entities emerging victorious. Fifteen horses sold for $1 million or more in 2020, including one in Book 2.
"It has been an incredible two days, great results. We are excited about the results and the feeling. The hustle and bustle felt like it was back," said Shannon Arvin, president and CEO of Keeneland. "Having nine distinct buyers in the top 10 purchases showed the diverse buying bench, both domestically and internationally."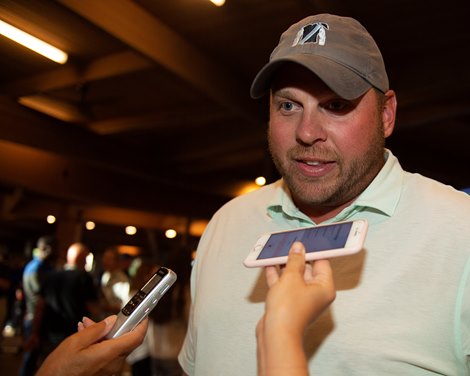 Buyers found Tuesday's market for the top horses to be competitive as always, with many shut out on their selections. Leading buyer Jacob West of West Bloodstock purchased 10 head Tuesday for gross receipts of $5,185,000, including Hip 376, a $1.05 million colt from the first crop of City of Light . Nine of those horses were acquired as agent for Repole Stable and St. Elias Stable, a partnership which emerged as the leading Book 1 buyer with gross receipts of $6,760,000 for 13 purchases overall.
"These things always happen. People get more comfortable and start realizing they are at a horse sale, and it is Tuesday, not Monday," West said of the Tuesday spike in action. "I have always said they should never start a sale on Monday because the principles are just getting back to their offices from the weekend, and there are stacks of paper on their desks, and there are meetings, etc. Today momentum is the key.
"(I don't think) the horses are better today than yesterday. It is just that people are getting comfortable and getting their feet wet. That is typical for a second day. Everyone is getting in the groove for this week and next week."
"It's electric, the energy and optimism," added Tony Lacy, vice president of sales for Keeneland. "The sellers were having just as much fun as the buyers, which we are trying to encourage. Going forward, it sets a powerful tone for Book 2."
M.V. Magnier purchased six yearlings by popular stallions in Curlin , Uncle Mo (2), Justify (2), and Mendelssohn for gross receipts of $4,425,000, signing the ticket on four himself and letting agents Justin Casse and Ben McElroy do the honors on two.
"It's plenty strong for the good ones," he said. "Good horses are making good money."
Maverick Racing, the buying arm of WinStar Farm, purchased two yearlings, spending $1,275,000; David Hanley, general manager of WinStar Farm, said, "I think it's solid for the nice horses. There's a lot of energy here, and I think the market seems like it's pretty hefty right now."
On the flip side, WinStar Farm Bred & Raised sold three of their five offerings on the second day of Book 1. "We've been selling well. We've bought some nice horses as well, I think," Hanley said.
Leading consignor Gainesway sold 15 horses for a total of $9,430,000, bringing an average price of $628,667. Three of their horses sold for seven figures, two of which happened to be homebreds for Antony Beck's operation going through the ring as Hip 223, a $1.2 million filly by War Front purchased by Eddie Woods on behalf of Seahorse Stables, and Hip 331, a $1.3 million son of Tapit secured by Mandy Pope's Whisper Hill Farm.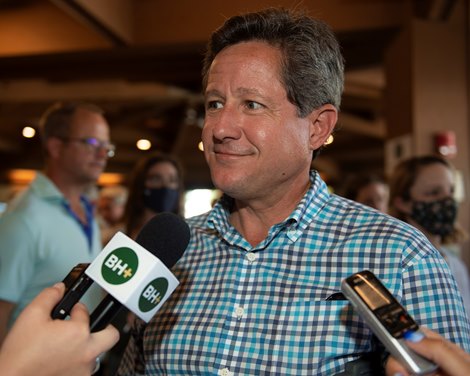 "I was hopeful," said Brian Graves, general manager at Gainesway. "The first day was a little bit spotty and a little bit soft. The vetting had increased today, so we figured it was going to be a little bit better. The third horse, Hip 333, a Stonestreet Bred & Raised filly, sold to M.V. Magnier for $1,300,000. We're very grateful that two of our Gainesway homebreds were the lucky recipients of that million-dollar number, and we're very grateful to Barbara Banke for the third, and grateful to all of our clients."
On hand Tuesday to see the Thoroughbred industry hard at work at Keeneland for Kentucky was Governor Andy Beshear.
"It's critical to the industry; Kentucky is the horse racing capital of the world, nobody does it better than us, and the state fully supports this industry," Beshear told Scott Hazelton of TVG. "It's who we are, what we grew up around, and what brings people from all over the world. Part of the reason people want to invest in us (Kentucky) is they have been here (to Keeneland), which is a special part of who we are.
"In 2020, we had two major challenges for racing—but we were able to be one of the first states to open racing, and the industry responded by following every protocol and procedure (during the COVID-19 pandemic). The second was (getting the) Historical Horseracing (bill to) pass, which was not a short task," Beshear said.
Keeneland's RNA Reoffer program, initially created to help ease anxiety amongst consignors for horses cataloged early on the first selling day, saw one of four re-runs through the ring sell. Three yearlings initially scheduled to take part in the program were sold privately earlier in the day.
"It encouraged some people to support Book 1, and quite frankly, it helped solidify some confidence in people. Overall it worked and helped create a safety net for sellers," said Lacy.
Eaton Sales' Reiley McDonald, who did not partake in the RNA Reoffer program, said, "It's fundamentally a flawed concept. We will not use it. It was ill-conceived. An auction should be immediate and absolute. If you give the buyer or seller the thought that they can have another shot at it, it takes away the credibility of an auction."
Session 3 begins Wednesday with Book 2 horses selling at 11:00 a.m. ET, when Hips 400-749 will be offered.