A Tapiture colt with a solid update collected $145,000 Sept. 23 to top the 10th session of the Keeneland September Sale, marking a home run for his Darby Dan sire.
John Greathouse purchased the colt out of stakes-producer Informative Style, consigned by Paramount Sales as Hip 3173, on behalf of Arlene and Al London's Glencrest Farm.
The bay colt benefited from potentially the most significant update of Book 5, as his full sister, Li'l Tootsie, recently placed third in the Sept. 4 Prioress Stakes (G2) at Saratoga Race Course. Li'l Tootsie is currently listed at odds of 3-1 on the morning line for the Sept. 25 Dogwood Stakes (G3) at Churchill Downs.
Davant Latham bred the colt, who was foaled and raised at Richie Donworth's Scarteen Stud. Latham, who recently retired the mare, bred Informative Style to Tapiture for three consecutive seasons, aiming to capture Tonalist 's cross. The Belmont Stakes (G1) winner is by Tapit out of a Pleasant Colony mare; meanwhile, Hip 3173 is by Tapit 's son, and his female family includes a second dam by Pleasant Colony.
Greathouse, the London's agent, was pleased to fill their order on the penultimate day of the sale, as the competitive market stymied multiple earlier attempts.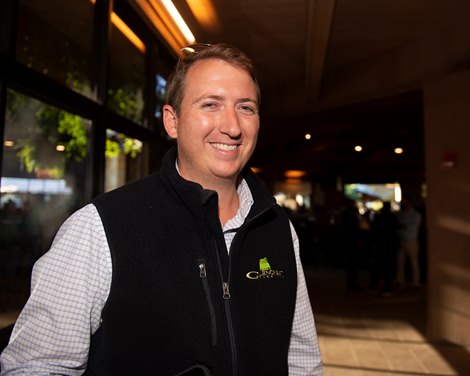 "I thought it was an extremely athletic horse," said Greathouse. "The family is still really active. Obviously, he's got the full sister that's graded stakes-placed, and I think she's in this weekend in the Dogwood. ... I have been trying to buy a horse for (the Londons) all week, and we just keep getting outrun. This horse is for them. They have been clients of ours for a long time—lovely, lovely people. (Al London) was really keen on the horse, he loved the horse, loved the pedigree, and we liked the stallion.
"Wish them all the best ... They have been in the business a long time. They love winning, they love racing, and they're happy to have the colt."
Thus far at the 2021 September Sale, nine of Tapiture's 10 yearlings to pass through the Keeneland ring have sold for an average purchase price of $43,111. He has two additional yearlings scheduled to sell on the final day of Book 5 (Hips 3745 and 3936). Hip 3173 was Tapiture's top performer, by far, outdoing his second most expensive yearling (Hip 2620) by $100,000. Nonetheless, Greathouse applauded the sire, who stood the 2021 season for an advertised fee of $10,000.
"I've always felt like Tapiture gets a good, athletic horse," he said. "They're big-walking horses. This horse we bought today had a wonderful walk on him, good reach, good conformation. They seem like classy animals, and they seem to run—they win—and that's just the name of the game."