She was the essence of excellence, the global superstar whose sobriquet "The Queen of Racing" was well earned over five seasons of unparalleled accomplishment on turf courses in four different countries. Now the team at Juddmonte Farms has collective fingers crossed that Enable will prove to be as exceptional a broodmare as she was a racehorse.
The late H.H. Prince Khalid bin Abdullah's fourth generation homebred was retired at the conclusion of her 2020 campaign at age 6 and the two-time Cartier Horse of the Year (2017, 2019) came home to Banstead Manor Stud in Newmarket, England where she was born to begin her next chapter.
On Valentine's Day, Enable had a date with Juddmonte's third generation homebred and 2014 Cartier Horse of the Year Kingman. Her first foal is due Jan. 14, 2022.
"Obviously, when she retired to stud at the age of 6 years, we were always a little concerned that she would come as an institutionalized filly and have trouble cycling," said Simon Mockridge, the general manager of Juddmonte UK. "Our initial fears about her cycling proved groundless. Everything came easily to Enable on the breeding front, cycling very early, and conceiving to her first covering on the 14th of February—Valentine's Day."
When she was in training with John Gosden, the daughter of Nathaniel and the stakes-winning Sadler's Wells mare Concentric was the very definition of an imposing figure. Her regal bearing, dignity, and grandeur were unmistakable, and she was fit and fine-tuned physically.
"(Enable is) becoming more rounded," said Mockridge. "She's more matronly now."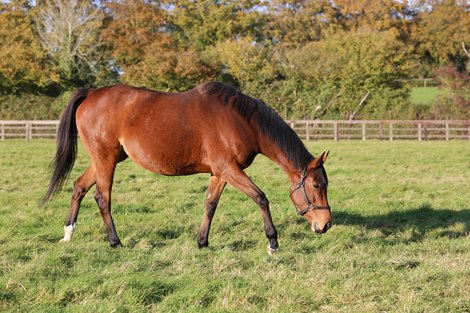 Now aged 7, impending motherhood suits her.
"My observation of her is she is not a big, masculine mare like so many of the high-class race fillies," continued Mockridge. "She has wonderful presence, size, and scope, and is deep through the girth. She has great heart and lung room but retains the elegance and athleticism of a ballerina. She has wonderful movement at the walk with extra extension through the shoulder. She glides over the ground when she moves in her faster paces, which recently is not very often.
"Physically and mentally, she has all the attributes to make into as good a brooodmare as she was a race filly and certainly, she will be given every opportunity to achieve."
There is none more deserving of that than Enable, who has a weighty list of accolades. Despite a significant setback to injury in 2018, she overcame and returned to top form before retiring with a record of 15-2-1 from 19 starts, added 11 group/grade 1 trophies to Juddmonte's case, and earned $14,062,824.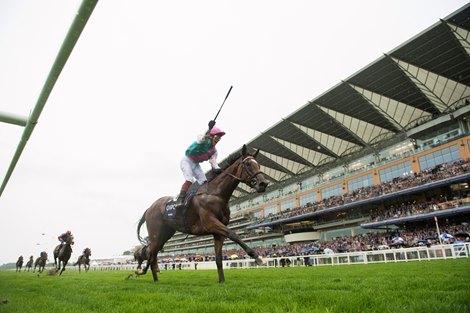 Enable is the only horse in history to win the King George VI and Queen Elizabeth Stakes (G1) at Ascot three times (2017, 2019, and 2020). In her first King George VI victory, she was a 3-year-old filly defeating older male rivals. Enable won a total of four group 1 Oaks in her career—three in 2017 (Investic Oaks at Epsom, Darley Irish Oaks at the Curragh, and Darley Yorkshire Oaks at York), and in 2019 she took the Yorkshire Oaks again. Enable beat Europe's finest in back-to-back runnings of the prestigious Qatar Prix de l'Arc de Triomphe (G1) in 2017 and 2018.
As if that weren't enough, the bay invaded American soil in 2018 and captured the Longines Breeders' Cup Turf (G1T) at Churchill Downs, establishing herself forever in the annals of history as she became the only horse to ever win both the Arc and the Breeders' Cup Turf in the same year.
Enable retired as the most successful Juddmonte homebred racehorse by both earnings and number of grade 1 wins in the 40-year history of Prince Khalid's remarkable international breeding and racing program.
"Winning the Arc and the Breeders' Cup in the same year was the cherry on the cake," said Garrett O'Rourke, the general manager of Juddmonte USA. "There are some horses (like Enable) that transcend regular sports stars."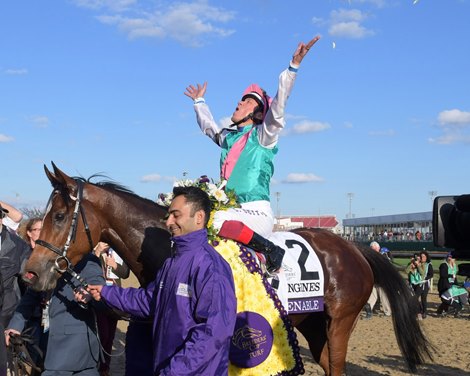 The decision to send Enable to mate with Juddmonte's Kingman, a son of Invincible Spirit, a champion European miler, and one of the world's best young stallions, was the logical one.
On Nov. 10, Kingman's son Palace Pier was announced as the Cartier Award winner as Europe's top older horse after being similarly honored as the best 3-year-old colt in 2020. Palace Pier recorded five group 1 victories in his career and earned over $2.4 million.
"Kingman was an easy choice as her first mating," said Mockridge. "His early results at stud place him as one of the most influential young sires in Europe and the horse is very much making his mark across the international stage. His blistering turn of foot and brilliance over a mile complimented her family, which is very much a classic family that is durable and tough.
"I don't think there will ever be another like her. But we hope that she will pass on her traits, her strength, her will to win, her extraordinary mind, and her athleticism," he added. "And then there are the traits of Kingman. This foal will have every opportunity."
With the filly or colt due to arrive Jan. 14, the anticipation and excitement continues to build in the industry and with the public over the beloved mare's first foal. But while tucked away securely in the segregated broodmare band at Banstead Manor and kept away from the prying eyes of both fans and paparazzi, the Queen of Racing is now the Queen of Serene.
"She always had a reputation of being territorial in her stable environment (when in training with Gosden) and that was the case in the first month back at stud," said Mockridge. "This soon changed once she let down and spent more time in the paddock. In fact, she enjoys being turned out so much that initially she refused to be caught to come in."
Enable came home to Banstead Manor at the same time as Franconia, a homebred 4-year-old multiple stakes-winning daughter of Frankel, and she is also in foal. The two have become quite a pair and are always happily together in their paddock.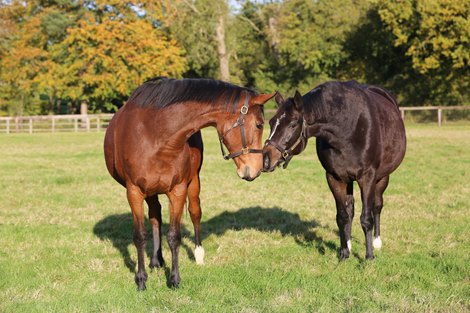 "It was beautiful seeing her race as a filly and a mare. She gave the general public and the racing industry a great gift. It's not often that you get a multiple champion like her. It's not something you can gloss over," said Mockridge. "Now she is very quiet, very settled. She was ready to come back and be a broodmare."
Unfortunately, the racing world suffered a tragic loss when Prince Khalid died Jan. 12 at the age of 85. He would have been absolutely delighted with Enable's foal, and to one day see this fifth-generation homebred carrying his iconic pink and green silks.
"It's been a sad year for us. Now there is a lot to look forward to. It's always exciting to look forward to new life," said Mockridge, who added the prince loved to see his homebreds win. "The season has gone so quickly that it's difficult to grasp that we are now into the last trimester of her pregnancy and now the focus is firmly on her foaling.
"As you can imagine His Highness Prince Khalid's family and the whole Juddmonte team are incredibly excited at the prospect of seeing her first colt or filly. There will also be the normal degree of anxiety and hope that all goes according to plan."
The Juddmonte team fully understands that come mid-January all eyes will be turned their way, traditional racing media and even non-sporting media interest will be at a fever pitch, and social media platforms will explode.
"I am sure that as the date nears the media attention will also peak—and why not? She was the darling of European racing with a unique race record—of three King George victories, two Arcs, the first horse to win an Arc and Breeders' Cup race in the same year," said Mockridge. "She was simply outstanding and a wonderful advertisement for our sport. Her performances followed and emulated some of the Juddmonte greats—Frankel, Kingman, and Arrogate—during a golden period from 2010 to 2020. We're all incredibly excited."