A comprehensive new report into the state of international illegal betting has found a marked increase in punters using black market bookmakers, which are outnumbering licensed and regulated online operators by a ratio of nearly 2-to-1.
The State of Illegal Betting study, produced by the Asian Racing Federation assessing global betting markets, highlighted how the proliferation of unlicensed or unregulated firms presented "major threats to the integrity of racing and other sports, the growth of transnational organized crime, and gambling harm to customers."
The release of the 94-page document comes as punters, the betting industry, and racing in Britain await the publication of the government's white paper into the review of the 2005 Gambling Act, which could impose draconian affordability checks on individuals betting, requiring them to hand over sensitive personal data such as bank statements and wage slips to be approved to bet, potentially triggered by a net monthly loss of as low as £100.
There have been growing fears that such restrictions could drive more bettors into the unsafe and unregulated market, while British racing estimates such checks could cost the sport up to £100 million annually.
The report also follows an investigation by the Racing Post that exposed the ease of locating and signing up to black market betting sites, their non-existent player protection systems, the ability to bet with them via credit card, and the use of "personal managers" to encourage regular and heavy betting to unlock unspecified "bonuses."
Of the 534 betting websites analyzed by the ARF, 61% were found to be unlicensed or to be licensed and unregulated—meaning the operator had a gambling license from an offshore jurisdiction, such as Curacao, but only to allow bets to be taken from outside that location—with online traffic to these sites increasing at nearly double the rate of licensed and regulated operators (64% compared to 36%).
The ARF also found that 40% (105) of the 262 most popular global websites were either unregulated or unlicensed, with this increasing to 47% of 93 randomly selected global sites from the initial sample of 534.
Analysis of the 20 most popular betting sites by the ARF found that 16 were licensed and regulated, which "underlines that bettors prefer to bet with licensed and regulated operators if possible and if the operator is not over-regulated to the point where it cannot compete with under-regulated and unregulated operators."
However, the ARF added that unburdened by regulatory oversight, black market operations were more agile and aggressive in targeting punters, advertising on sites showing pirated sports streams, pornography, via social media, and "directly to customers with gambling problems."
The report continued: "Global demand for online betting continues to accelerate faster than some stakeholders' understanding of key issues
"Clearly, this rapid growth of operators with no regard for best practices upheld by licensed and regulated betting operators has significant negative impacts on society as regards to problem gambling, sports integrity, and financial crime."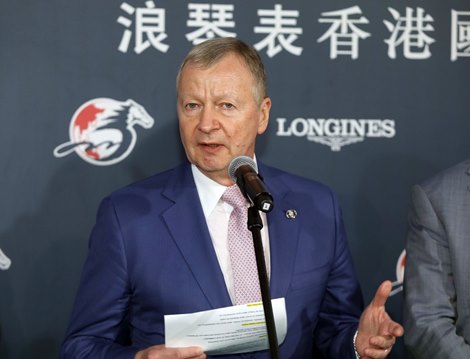 Winfried Engelbrecht-Bresges, ARF chairman, said the purpose of the report was to enlighten people about the realities and reach of the global black market.
He said: "The report is intended to assist government policy-makers, regulators, law enforcement officers and those involved in the governance and management of racing and other sports, as well as people in the racing and betting industries, to comprehend the current scale, scope, and harm to society of illegal betting and related financial crime.
"Licensed and well-regulated betting operators provide essential financial support to the sport of racing via levies, betting duty, and other support payments. The report points out that the globalized growth of illegal betting results in major threats to the integrity of racing and other sports, the growth of transnational organized crime, and gambling harm to customers.
"It is clearer than ever that illegal betting is a major current global social problem that requires continued attention."
The ARF also highlighted its concerns with the use of so-called white-label websites, where technology for running a betting website is supplied by a third party with the operator limited to branding and marketing their company, as well as finding people to bet on it.
The report said such arrangements allowed "operators of questionable origins to set up 'licensed' betting websites" and that they increased "betting integrity threats", citing the example of Viking Hoard, who was found to be doped with a tranquilizer when racing at Tramore in 2018 having been laid for a substantial sum via an individual using a white-label website.
Martin Purbrick, chair of the ARF council on anti-illegal betting and related financial crime, said: "This report provides a most comprehensive insight into illegal betting as a major threat to integrity in racing and other sports, as a challenge to effective regulation of legal betting (which is being obfuscated by countries issuing licenses falsely purporting to have international coverage), as a criminal justice problem as organized crime groups profit from illegal betting, and as a social problem causing greater problem gambling."
In response to the Racing Post's investigations into the black market, a spokesperson for the Gambling Commission said: "We recognize the concerns which exist around the black market, but maintain our position this needs to be balanced with the risks in the regulated gambling sector and so we will continue to maintain our escalation approach which includes disruption and enforcement.
"The commission continues to not only actively engage, but drive relationships with other law enforcement bodies in the UK as well as internationally, activity which will continue."