Trainer/owner/breeder Noel Hickey, who became the first trainer to breed a Breeders' Cup World Championships winner with Buck's Boy in 1998, died Aug. 8 at his home in McIntosh, Fla. He was 94.
Born Peter Noel Hickey in County Cork, Ireland, he built a successful 42-year career in Thoroughbred racing by following his own instincts and primarily racing his own horses. He found extraordinary success at Arlington Park where he made history in 1990 by winning the track's training title with 49 winners who were exclusively homebreds. He accomplished a bigger feat the following year when he broke Arlington's all-time single-season record with 61 wins. The record of 60 wins had been previously set in 1968 by Arnold Winick.
Hickey continued to make history in 1998 when he won the Breeders' Cup Turf (G1T) with Buck's Boy, a gelding that he bred and raised in Illinois in the name of his Irish Acres Farm. The horse was a true homebred, by Hickey's stallion Bucksplasher and out of his homebred winner Molly's Colleen. He also bred and raced Molly's Colleen's dam Irish Molly in Canada.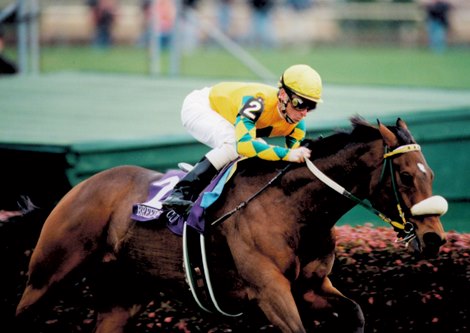 Racing initially for Hickey, Buck's Boy became a winner in his second start at Arlington Park in July of his 3-year-old year when he won by 13 lengths. After a second win two weeks later, George Bunn purchased Buck's Boy. The gelding would win his first stakes at 4 in the W.H. Bishop Handicap at Arlington and roll right into his first graded win in his next start, the Hawthorne Gold Cup Handicap (G3) that he won gate-to-wire by 1 1/4 lengths.
Buck's Boy was second-choice in the Breeders' Cup Turf (G1T), run that year at Churchill Downs, and with his consistent front-running form became the first Illinois-bred to win a Breeders' Cup race. His victory also delivered the first Breeders' Cup win for Hickey, who was his trainer for 20 of his 30 lifetime starts. The victory nailed down Eclipse champion honors for Buck's Boy, who also was named Illinois Horse of the Year and the state's champion older horse for 1998. The gelding had already earned Illinois Horse of the Year and champion older horse titles the previous year and would earn them again in 1999. Buck's Boy died in late January at 29.
Hickey grew up around horses in Ireland.
"We dealt in horses, and had all kinds," Hickey told the Chicago Tribune in 1991. "In the area of West Cork, where I grew up, there were all those little meets. I rode in those meets when I was 14, 15, 16, 17 years of age. The only years I wasn't immersed were the seven years of my life when I was competing in track."
Hickey was a distinguished runner himself and was one of Ireland's fastest runners in 800-meter and 1,500-meter races. His talent as a runner would attract scholarship offers from U.S. colleges, but he stayed in Ireland and studied business at Presentation Brothers College with an eye on a banking career. He emigrated to Canada in 1953 when he signed a five-year contract with the Bank of Montreal. From there he began managing mutual funds and developed an investment business with 940-licensed brokers.
By 1961, Hickey was back involved with horse racing.
"He used to go to Blue Bonnets (racetrack) first thing in the morning to train his horses, go to the office, and then be back down at Blue Bonnets at night for the racing," said Margaret Ann "Bobby" Hickey, who was married to Noel for 68 years.
The Hickeys eventually bought a 440-acre farm north of Ocala, Fla., in 1969 and named it Irish Acres Farm. Hickey then sold his interest in the investment business and jumped full-time into breeding and racing in 1971. While he raced around the Midwest, Margaret ran the farm that would have up to 100 horses grazing within its fences.
Hickey campaigned 1,049 winners through 2013 and collected $19,499,862 in purses. Besides Buck's Boy, his top horses included 10 other graded stakes winners—seven of these graded stakes winners were raced as homebreds and two were bred by Hickey but raced with other owners. Hickey campaigned another grade 1 winner in Lady Shirl, a daughter of Irish Acres stallion That's a Nice, who won 10 black-type stakes for Hickey, including the 1991 Flower Bowl Handicap (G1T) at Belmont Park.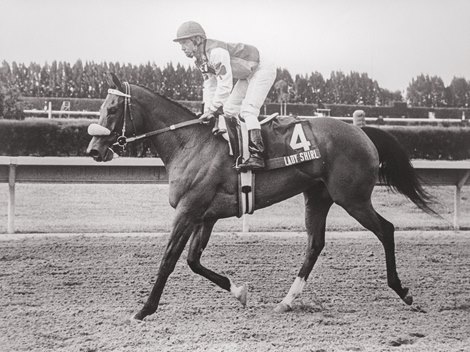 Margaret Hickey attributed her husband's success as a trainer to a natural ability to manage the athleticism of his horses and to his deep knowledge of pedigrees.
"Without pedigree, you're nothing. Mario Andretti (never could have won) the Indianapolis 500 if he were driving a Yugo," Noel Hickey told the Chicago Tribune.
The trainer also found value in families with European roots.
"A great deal of the success of our horses on the grass is pedigree. When I was buying mares, American mares were terribly inflated," he told the Chicago paper in 1991. "Back then you could buy classic second-generation mares of English and Irish families for a third of what you would have had to pay for comparable American breeding."
Away from the racetrack, Margaret Hickey said Noel will be best remembered for always being willing to lend a helping hand.
"He helped a lot of people in a lot of different ways," she said. "I have had a number of calls over the last several days from people that said it if hadn't been for Noel they wouldn't have gotten into the horse business or been able to deal with so many things. With one girl, we helped her get her papers so she could come to the U.S. from China. He helped with whatever people needed at the time. He'll be missed."