The demographic of buyers who play at the head of the global bloodstock market is, in the grand scheme, relatively narrow. But it seemed as though everyone who matters was in attendance at Tattersalls Oct. 5 as Day 2 of Book 1 of the October Yearling Sale became the highest grossing session of selling in European auction history.
During a session that bordered on the outrageous, eight lots brought 1,000,000gns (US$1,195,782) or more as turnover reached 49,545,000gns ($59,245,019), a massive 65% year-on-year increase. The average price was up by a hefty 49% at 344,062gns ($411,423), and the median rose by 25% to 200,000gns ($239,156). The clearance rate was 88% as 144 sold from 163 offered.
Watership Down Stud's Frankel colt out of So Mi Dar bore more than a passing resemblance to his sire and marched into the Park Paddocks ring with an accordingly sizeable reputation on Day 2.
The blue-blooded youngster (Lot 221) lived up to his star-billing by drawing a bid of 2,800,000gns ($3,348,190) from Godolphin, a price that makes him the most expensive yearling sold anywhere in the world this year.
Godolphin had rather had the run of things at the head of the market during the opening session, with a 6,025,000gns ($7,204,587) spend, including a hat-trick of seven-figure lots. However, Lane's End's Bill Farish was determined not to let Sheikh Mohammed's operation have everything their own way as some strong bidding tactics were deployed from the right of Edmond Mahony's rostrum.
Godolphin spree continues at Book 1 as Anthony Stroud goes to 2,800,000gns for the Frankel colt out of So Mi Dar from @WatershipStud pic.twitter.com/wVHD8aFPbX

— James Thomas (@jamesbthomas11) October 5, 2022
A series of 100,000gns increases were delivered with sharp nods of the head and each time Godolphin responded Farish fired back almost immediately. But when a bid of 2,800,000gns was signaled by the spotter next to the parade ring, Farish took a long, despondent look at the bid board over his left shoulder. After a brief exchange with bloodstock agent David Ingordo there was a clear shake of the head and the hammer came down.
"Obviously, he's got a stallion's pedigree as he's by Frankel out of a very good Dubawi mare," said Anthony Stroud after signing for Godolphin's fourth seven-figure purchase of the sale. "This is one of Watership Down's best families, so he was the jewel in the crown. Needless to say, he's an extremely nice horse.
"The price was more than I anticipated, but Watership Down does a great job and David Ingordo and Bill Farish are strong opposition. He's an outstanding horse, and he's very valuable if he's a good racehorse."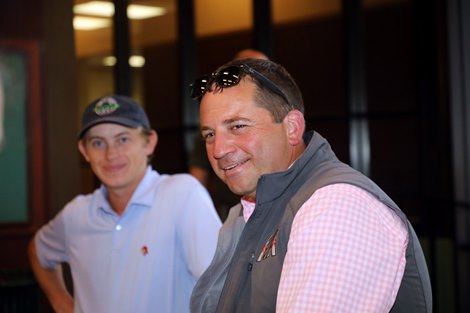 The transaction represented something of a reversal of fortunes for Farish, whose Woodford Racing outfit secured So Mi Dar's Sea The Stars colt for 1,200,000gns ($1,716,890) through Charlie Gordon-Watson at last year's renewal of Book 1. The colt has since been named Astrodome.
So Mi Dar won the Tattersalls Musidora Stakes (G3) during her time in training and also ran third to Speedy Boarding in the Prix de l'Opera Longines (G1). She is not only by Dubawi but out of dual group 1 heroine Dar Re Mi, meaning she is a sister to champion 2- and 3-year-old Too Darn Hot and Lah Ti Dar, winner of the Al Basti Equiworld Dubai Middleton Stakes (G2) and dam of the 880,000gns ($1,052,288) Siyouni filly (Lot 24) bought by Shadwell on Tuesday.
Godolphin has been involved with the family before as not only does Too Darn Hot now stand at Dalham Hall Stud, but Dar Re Mi is out of Watership Down's foundation mare Darara, making her a half sister to the star-crossed Rewilding, who won the Prince of Wales's Stakes (G1) and Dubai Sheema Classic Sponsored by China Guangsha (G1) for Sheikh Mohammed.
Darara, a Trusthouse Forte Prix Vermeille (G1)-winning half sister to Darshaan, joined the Lloyd Webber's broodmare band at a cost of IR470,000gns in 1994.
"It's an extraordinary thing when you have a horse like that and he fulfills everything you want from him," said Simon Marsh, general manager of Watership Down. "He's been an exceptional individual all his life, but these things don't happen by accident.
"There are an enormous amount of people involved in getting him here, from Terry (Doherty, stud manager), who's been with us for 30 years, to Conor, who led the horse up, and Donna (Vowles), who is our manager in Ireland, and the feed people and the farriers.
"All these people have to come together to be able to get the horse here today. For him to do what he's done is amazing and we're all absolutely delighted. It's an incredible family and we've been incredibly lucky."
Expanding on what's in store for the family, Marsh added: "Frankel is the one and So Mi Dar's got a lovely filly foal by him. She's back in foal to Frankel, Lah Ti Dar is in foal to Frankel, there's another mare in the family and she's called Darlectable You and she's in foal to Frankel, too.
"There's a lot going on in the family. It's amazing when you get involved in these families and they just keep going. We're actually going to send Darlectable You to Gun Runner in America, which will be an interesting way to get some new blood into the family."
Coolmore Clean Up with Broome Sibling
It took 2,400,000gns ($2,869,877) for Coolmore to outmuscle Godolphin a few lots later when Croom House Stud offered the three-parts sibling to Broome and Point Lonsdale.
Another by Frankel, the colt (Lot 238) is out of Denis Brosnan's superb producer Sweepstake, whose five winners are headed by Broome, who struck in the Grand Prix de Saint-Cloud (G1), and Galileo Irish E.B.F. Futurity Stakes (G2) winner Point Lonsdale, both of whom are by Australia.
M.V. Magnier, who signed alongside Peter Brant's White Birch Farm, said: "Denis Brosnan is a very good breeder and we've had a lot of luck buying horses off him in the past. Everybody knows how well Frankel is doing at the moment and we've had the two brothers before and they're two very good horses, so let's hope this lad is as good.
"To be fair to Sweepstake she's always bred very good-looking horses and the three of them are all pretty flashy animals and they're all fairly similar types. With those sons of Galileo it's not just Frankel, Churchill has gone to a new level as well, Australia is flying, and Gleneagles, too."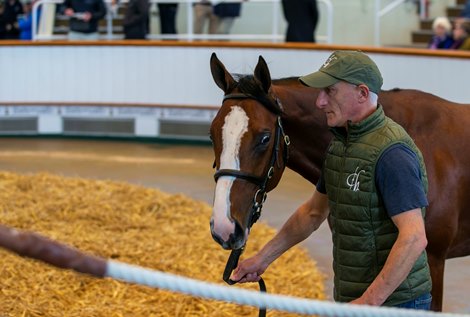 Sweepstake won two races during her time on the track with Richard Hannon, most notably the Betfair Mobile National Stakes, before she made the switch to America. She joined the broodmare band of Brosnan's Epona Bloodstock in 2011, when she was sourced at the Keeneland November Breeding Stock Sale at a cost of $280,000. Her yearlings have now brought 4,250,000gns ($5,082,074) in Tattersalls yearling receipts.
The daughter of Acclamation's pedigree goes back to Galaxie Dust, ancestress of Tyranny, who in turn produced the Epona Bloodstock-bred Zoffany and Rostropovich.
"Sweepstake has been very good to us," said Brosnan. "She was originally bought by Peter Doyle and trained by Richard Hannon before she was sold to America, where we went and bought her. The reason we bought her was because we had all these names (Tyranny and her offspring) breeding.
"There were an awful lot of bidders on this colt up to to two million. We've sold a mare here before for 2,400,000gns ($3,908,268), Sumora, in 2011. It's nice to walk away from the ring with that price again."
Another for Knight
The Lope de Vega half sister to Battaash became the latest seven-figure acquisition made by Richard Knight as the agent went to 1,800,000gns for the Ballyphilip Stud-bred youngster. Celebrity chef Bobby Flay filled the role of underbidder, with Joseph Burke and Kia Joorabchian of Amo Racing among those involved earlier on.
"I thought she was probably the pick of the fillies in the sale," said Knight. "She's very racy and obviously she's by a top stallion and a half sister to Battaash, she just ticked so many boxes.
"She's a gorgeous physical, she's very athletic and I'm just delighted to get her. She'll stay in Britain and a trainer will be decided at a later stage. She's for an undisclosed client."
Although the identity of Knight's high-rolling client remains a mystery, the agent confirmed his recent headline-grabbing purchases have all been made on behalf of the same owner. His haul includes the €2.6m sister to Blackbeard who topped the Goffs Orby Sale and six purchases at Keeneland totaling $4.875 million.
Expanding on his recent activities, Knight said: "It's been fantastic. When we go into most sales we have a smaller budget and one or two horses might drop onto the list and they're the ones we buy. In the last few weeks it's been a fantastic opportunity to go and buy the ones we really want to buy.
"It's been thoroughly enjoyable but I've found it very strong today. I really liked the Frankel filly from Newsells earlier, but we put a value on everything and if they go over budget we stop."
The filly was bred by Ballyphilip Stud from Anna Law, an unplaced daughter of Lawman whose siblings include SGB Champagne Stakes (G2) winner Etlaala and Bird Key, dam of Tasleet. Anna Law's 2-year-old The Antarctic brought a significant update to the pedigree when the brother to Battaash won the Prix de Cabourg (G3).
Despite Anna Law having cost Paul McCartan a scarcely believable 14,000gns back in 2012, her progeny have now generated 3,730,000gns in Tattersalls yearling receipts.
"She's an absolute beauty," McCartan said of the Lope de Vega filly. "I think the nicest filly we've ever had. I always said Ladies First was, she was very good to me as well, but this one was especially nice. The mare is a beauty as well.
"I wish Richard Knight all the best with her and I hope she's very lucky for her connections."