When Dave Johnson began as a racetrack announcer in the 1960s—or, as he likes to joke, "back when the Earth was cooling"—a call of a race ended roughly with a sixteenth of a mile remaining. This came during an era long before simulcasting, decades before the regular use of cell phones and when pay phones were shut off at the track during racing.
Announcing later evolved to end appropriately at the finish, and Johnson's calls, as well as those later from another now-retired legend, Tom Durkin, further changed and elevated the racetrack announcer profession, with the descriptions provided by the pair and with an element of theater. (Johnson knows plenty about theater, having been a producer in the multiple Tony Award-winning musical "The Producers.")
No longer were simply the facts just presented, but drama and tone were added. Like a play, a race offered a protagonist, an antagonist, and a plot, Durkin said. But unlike theater, a race would not repeat night after night, with every race a "one in a lifetime thing," even one with the same participants differing from a previous matchup, Johnson said.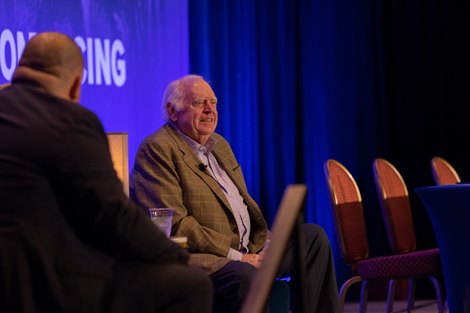 The two announcers, speaking with current Gulfstream Park announcer Pete Aiello, discussed their careers during a Dec. 6 panel called "Storytellers of the Game—Racing's Legendary Announcers" during the first of three afternoon discussions during the University of Arizona's Race Track Industry Program's Global Symposium on Racing.
The lighthearted "Storytellers of the Game" panel preceded two harder-hitting discussions during the Tuesday afternoon portion of the multi-day conference at Loews Ventana Canyon Resort in Tucson, Ariz. They included "Life After the Track—Second Careers and Retirement," focusing on racehorse aftercare, and "Integrating Horse Racing into the U.S. Sports Betting Environment."
Though both panels were well appreciated by symposium attendees, neither proved as popular as the one featuring Durkin and Johnson. Attendees packed the conference room to see the two greats, and many lingered afterward for an opportunity to personally say a few words to one of the announcers who called races etched in their memories.
Some of those calls were played as video clips during the panel discussion, as were videoed comments from current announcers, who credited Johnson and Durkin for paving the way for their own achievements.
Durkin recalls attending a @BreedersCup party the first year and being floored to see former president Gerald Ford, Elizabeth Taylor and others there - and having to call his mother to tell her about it. https://t.co/hxZQOoS73p

— Byron King (@BH_BKing) December 6, 2022
Among those giving thanks was Larry Collmus, who became the announcer at the New York Racing Association for a number of years after Durkin's retirement in 2014. Handling both on-track and television announcing duties in 2015, he called American Pharoah 's victory in the Belmont Stakes Presented by NYRA Bets (G1).
"When American Pharoah won the Triple Crown for the first time in 38 years, a lot of people gave the kudos to the breeder, trainer, (jockey) Victor Espinoza, and the horse himself for winning the Triple Crown," recalled Durkin, now 72. "The real reason that he was able to win the Triple Crown was because I didn't call the race. NINE times I walked into that announcer's booth on Belmont Day, thinking by the end of the day I would call a Triple Crown winner. NINE times, 0-for-9."
It is the one that got away that still stings.
Oddly, for a man revered for his memorable calls, Durkin acknowledged that he struggled at times with performance anxiety, even seeking hypnosis therapy as a means to cope with the stress of his profession.
He recalled sitting down with a hypnotist, who asked him to choose an image to trigger positive thoughts in preparation for a Breeders' Cup at Churchill Downs. Durkin chose the historic Twin Spires.
"So, I'm paraphrasing. He goes, 'Every time you can see the Twin Spires, you will be calm. Your vision will be excellent. You will be able to draw words from your subconscious the moment you see those Twin Spires above,' " Durkin said in a calm, soothing voice. "So it's Breeders' Cup Day, and I get out of bed—(and I'm like), 'Let's go, Tom boy! Let's get out there.' And I open the blinds, and it's raining sideways."
Knowing how difficult it would be to announce, with horses covered in mud and facing the long Churchill Downs stretch, Durkin said he felt like, "I'm walking 13 steps up to the gallows."
But as he drove to Churchill Downs, the iconic view of the historic track put him in the right frame of mind.
"Turned down Central Avenue, there are the Twin Spires," Durkin said, slapping his hand to emphasize his breaking out of a funk. " 'Let's get to work, Tommy boy!' "
"Works. I used that a lot," he added of hypnosis. "But after a while, the stress just got to me, and I gave up the job."
Even in retirement, the two announcers are revered by fans, Durkin known for his storytelling abilities and rich vocabulary—he kept a long sheet for synonyms to describe action—and Johnson for his catchphrase, "And down the stretch they come!"
Johnson said Tuesday that he trademarked that go-to line.
"I must tell you that it has garnered quite a bit of money for charity," he noted. "I've never kept a nickel for myself, but we have turned over all of the money, every penny, to racetrack charities, including a scholarship here at the University of Arizona."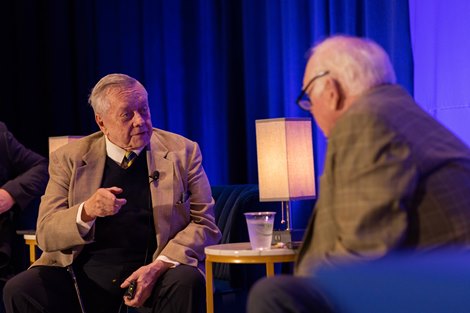 Asked to name their favorite call over their long careers, neither mentioned one, though Durkin said, seemingly in jest, "the last one."
Johnson humbly noted Durkin's call of Cigar winning the 1995 Breeders' Cup Classic (G1) at Belmont Park as his favorite when Durkin thundered, "And here he is: the incomparable, invincible, unbeatable Cigar!"
Aiello offered his high opinion of the two longtime announcers in his closing remarks.
"There's always a debate in anything, who is the best of all time? What is the Mount Rushmore of this? What is the Mount Rushmore of that?" he said. "But I think we can all agree—-a round of applause if you agree with this—two of the members of Mount Rushmore are present."
The symposium crowd did more than applaud. They roared.