The Ocala Breeders' Sales Company Winter Mixed and Horses of Racing Age Sale finished Jan. 25 with encouraging results, setting the tone for the rest of the sales year. An $80,000 short yearling by freshman sire Global Campaign stole headlines Wednesday, selling to Machmer Hall.
The open session Wednesday saw 183 horses sell of the 203 through the ring for a gross of $2,072,200. An average price of $11,323 and a median of $7,500 was recorded. Twenty horses failed to attain their reserve price, representing an RNA rate of 9.9%.
In 2022 the open session saw 186 horses sold of the 204 on offer for a gross of $2,075,600, suitable for an average price of $11,159 and a median of $7,000. Eighteen horses failed to sell, representing an RNA rate of 8.8%.
OBS continues to update its statistics with post-sale purchase prices, which can cause later changes to overall numbers.
For the three sessions (consignor preferred, horses of racing age, open), OBS reported 377 horses changed hands of the 427 on offer for gross receipts of $6,357,700, suitable for an average of $16,864 and a median of $10,000. Fifty individuals failed to meet their reserve price, representing an RNA rate of 11.7%.
During the 2022 sale, 417 horses sold of the 465 through the ring for final figures of $6,693,100. An average price of $16,051 and a median of $8,500 was attained. Forty-eight horses failed to sell, representing an RNA rate of 10.3%.
The Global Campaign yearling colt (Hip 485) out of the Henny Hughes mare Im a Dixie Diva took top honors Wednesday after realizing $80,000 from Machmer Hall.
"We sold Global Campaign for WinStar when he was a yearling, and I'm a typical emotional female (as you can see from the other horse I purchased today by Gift Box)," said Machmer Hall's Carrie Brogden. "I have the drive to support the stallions that have been a part of our program."
Brogden purchased the second highest-priced yearling during the consignor-preferred session Jan. 24, a $100,000 Gunnevera colt consigned as Hip 29 by Silver Oaks Farm. During Wednesday's session, she also purchased Hip 626, a Gift Box colt consigned by 4 M Ranch, for $38,000. The yearling colt was purchased under the name Gift Box's Breeder. Machmer Hall, Carrie and Craig Brogden, bred the grade 1-winning sire out of their blue hen mare Special Me.
Fly By Thoroughbreds, which consigned the Global Campaign yearling, purchased Im a Dixie Diva during the 2021 OBS Winter Sale for $2,500 and put her in foal for $12,500 in 2021—Global Campaign's first year at stud. The resulting colt, bred in Florida by Dominique Damico, is a half sibling to three runners, one of which is a winner. The dam is a half sibling to young millionaire grade 1-winning stallion Mor Spirit , by Eskendereya.
WinStar Farm stands Global Campaign, which they bred and campaigned in partnership with Sagamore Farm. Global Campaign was purchased by Sagamore Farm as a yearling from Brogden's Select Sales for $250,000 at the Keeneland September Yearling Sale in 2017.
Brogden noted: "I wrote on my catalog page, 'Big, strong, beast' I loved that he had a natural coat and was raised outside, not hot-housed. He had a great mind and held himself so well. Every time I went to the barn to look at him, there were a lot of people waiting for him. Mike Mulligan from Leprechaun was the underbidder on him."
Machmer Hall was the leading purchaser during the open session by gross. Agent Dave Cannizzo remained the top buyer by gross after both days of selling with his single purchase made Tuesday for $225,000, the sale-topping Tapit yearling colt, consigned by Stuart Morris as Hip 42.
"I bought what I felt was the best physical colt on both days," said Brogden."The Gift Box colt, I couldn't help myself. He walked just like Gift Box did and had the exact same head."
Three yearlings sold for $50,000 or more on Wednesday, including the Girvin filly (Hip 547) out of One Hot Drama, which sold to Champion Equine for $61,000 under the Get Away Farm banner. And 4 M Ranch consigned an Army Mule colt (Hip 510) to Star of the North, agent for James R. Zahler, for $57,000.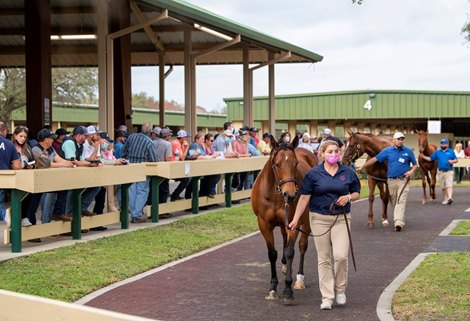 Gelfenstein Farm sold the highest-priced broodmare during the third session, Pathos (Hip 524), for $30,000 to MWG. The 11-year-old mare by Successful Appeal sold in foal to Sharp Azteca on an early March cover.
Summerfield sold 30 head for receipts of $316,000 to be the session's leading consignor by gross. Over the past two days, Kaizen Sales sold 41 horses for a gross of $721,400 to be the sale's leading consignor by gross.
OBS will host its next sale March 20-22, the March Sale of 2-Year-Olds in Training. The under tack show will be March 14-17.