The recent success of A Mo Reay is a prime example of the taxing, yet exulting business that is breeding racehorses, one that is full of both the highest of highs and the lowest of lows. When the 4-year-old daughter of Uncle Mo launched her fierce rally down the center of Santa Anita Park's track March 11 to collar Fun to Dream at the finish in the Beholder Mile (G1), she became the first grade 1 winner bred by Gayle Benson and her late husband Tom of Benson Farm.
Officially listed as bred by T & G Farm of Kentucky, A Mo Reay was raised at a 1,000-acre property just outside of Paris, Ky., that the Bensons purchased in 2016. The couple, famous in the world of sports for being the owners of the National Football League's New Orleans Saints and and National Basketball Association's New Orleans Pelicans, became intrigued by the idea of acquiring a horse farm when their runners Mo Tom and Tom's Ready lined up in the starting gate of that year's Kentucky Derby (G1).
Up to that point, the Bensons had enjoyed tremendous success as owners, campaigning a number of horses with trainers Tom Amoss, Dallas Stewart, and Al Stall. Among their standouts are grade 1 winner Tom's d'Etat and millionaire Lone Sailor. The latter and Mo Tom are both currently standing at stud in Louisiana, where Benson Farm supports them with a handful of mares each year. The Kentucky farm is currently home to around 12 of Gayle Benson's own mares as well as another two dozen or so others that are owned by private clients.
The couple's venture back into racing was sparked in 2014. Tom Benson became captivated by the rags-to-riches tale of California Chrome . Benson's fascination with the two-time Horse of the Year eventually resulted in the purchase of the Pioneerof the Nile mare Margaret Reay.
On the advice of farm manager and longtime horseman David Shone, the Bensons signed the ticket on Margaret Reay for $180,000 at the 2018 Keeneland January Sale.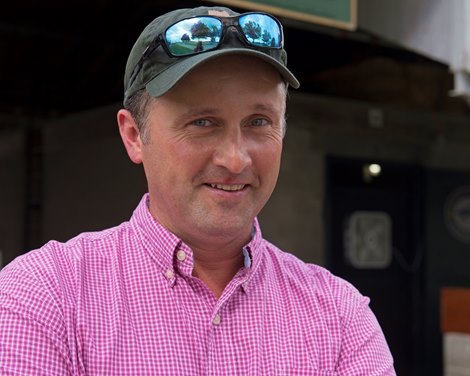 "We liked the fact she was by Pioneerof the Nile and was graded stakes placed herself. She actually ran second to Lady Eli as a 2-year-old," Shone said. "She wasn't overly big. She was in foal to California Chrome at the time. I thought physically that was a stallion that really suited her because he's a big strapping horse.
"It was a fun bonus for us that we would have a California Chrome offspring since Mr. Benson was such a big fan of the whole California Chrome story. He loved the idea that people could breed a horse for so cheaply that could go on and accomplish so much."
Margaret Reay foaled a California Chrome filly, who later sold for $50,000 at the 2019 Keeneland September Sale, before the Bensons bred her to Uncle Mo.
"Uncle Mo just really fitted her physically. He's got such great size and scope and he consistently passes that on," Shone said. "Mr. Benson also had a lot of luck with an Uncle Mo before with Mo Tom so he really liked the stallion and that's our reasoning behind going to Uncle Mo. He's among the top-tier stallions—he gets 2-year-old runners, turf runners, dirt runners, sprinters, and classic-type horses as well. He's just a fantastic sire and we've had good luck with him."
Tom Benson would never get to see the young A Mo Reay due to his death in March of 2018 at the age of 90. The filly—born a "plain dark bay, not too big and not small like (Margaret Reay)," recalled Shone—would eventually display the same luster as a yearling that she did years later on the track.
"She was nothing really exceptional until we started getting her ready for the sale," Shone said. "Once we started exercising her she began to stand out. She was just a fantastic mover. She walked really well and took her exercise well. She really blossomed. And the more work we did, the better she got. And by sales time she blossomed at the right time for us."
A Mo Reay lit up the sales ring at the 2020 Keeneland September Sale amid the darkness of the Covid-19 pandemic, dropping the hammer for $400,000 to Spendthrift Farm and Myracehorse.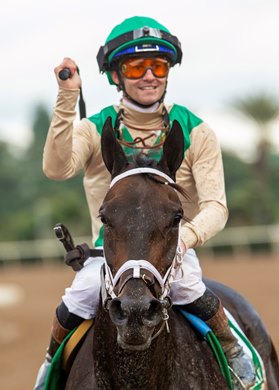 "We liked her a lot as a yearling but $400,000 was a lot of money for her too. We were delighted with that price," Shone said. "We typically breed to sell and want to offer everything at the sale. If they offer more than what we value them at we'll sell them, but we're not afraid to keep them and race them if they don't bring what we want for them."
While A Mo Reay showed promise early in her 2-year-old year, finishing third to 2021 champion 2-year-old filly Echo Zulu in the Frizette Stakes (G1) in only her second start, she began to struggle to find her form as a 3-year-old. During that frustrating year, Benson Farm was also enduring a heartbreak of its own when Margaret Reay's Gun Runner filly, born earlier that spring, was put down due to a tragic pasture accident.
The mare's bad luck labored on into 2023, when her Quality Road filly was born nearly blind. She was plagued by worsening cataracts after only a few weeks of life, and when the farm's optometrist predicted the filly would soon be completely blind, the difficult decision was made to put her down.
"Everything that happened yesterday (with A Mo Reay) was wonderful but it also puts things in perspective as well," Shone said. "It's a tough game. Breeding horses is hard. But we're thrilled to have bred a grade 1 winner and we're thrilled to have this mare. Margaret Reay is still a young mare. And we'll keep trying with her and it'll work out again. She's tough, just like A Mo Reay."
Margaret Reay is scheduled to visit 2022 Eclipse Award-winning 3-year-old Epicenter this breeding season, but Shone believes a future mating with Uncle Mo wouldn't be out of the question after A Mo Reay's string of success.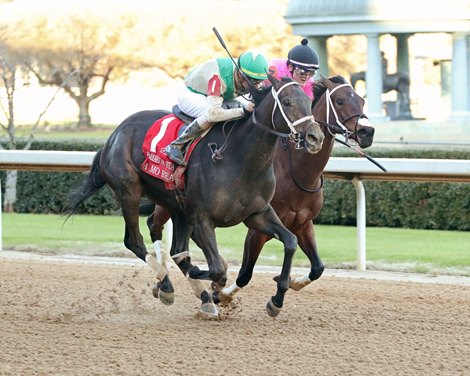 At the end of her discouraging sophomore campaign, A Mo Reay was picked up for $400,000 as a racing prospect at the 2022 Fasig-Tipton Kentucky Fall Mixed Sale where she would be sent to a new trainer, Brad Cox, and race under the silks of Hunter Valley Farm. The change of scenery breathed new life into the filly, and she proceeded to capture two straight stakes victories before her top-level triumph in Saturday's Beholder Mile.
"We're thrilled for A Mo Reay and the people who have her now," Shone said. "We know the Hunter Valley guys really well. They are good people and a good judge of horses too so I was delighted when they bought her last November. They're great at picking out good race fillies and improving them. We're really happy for them.
"It's exciting to have a filly we bred do what she's done. We're very proud of her. It's a great testament to the people we have working on the farm too. They all do a great job. We're raising sale horses but we're raising racehorses as well."