Solitude Thoroughbreds announced March 17 breeding incentive programs for Tiz Mischief and King Zachary modeled after the "Share the Upside" program created by Spendthrift Farm.
Farm co-owner Melanie Martinelli said she is bringing the Bluegrass to the Bermuda grass, reflecting the popular native grass that thrives in the Lone Star State. Her 300-acre Solitude Ranch is located an hour west of the Dallas-Fort Worth metroplex.
Solitude's Tiz Mischief is the first son of four-time leading sire Into Mischief to stand in Texas, while King Zachary, who is the only son of two-time Horse of the Year Curlin standing in the state. Breeders participating in the Share the Upside program for these two stallions must do the following:
1. Purchase two breedings at the current stud fee for either Tiz Mischief or King Zachary, who are both standing for $3,000.
2. Participants then sign a contract to breed twice and produce two live foals. Both breedings must be utilized no later than 2024, the same year both stallions will have their first crop of runners.
After meeting these conditions, a participating breeder beginning in 2025 will receive one free breeding per season for the breeding life of the stallion.
Solitude Thoroughbreds also will make the offer retroactive to breeders who've already signed contracts for the 2023 season. The promotion will be capped at a set number of mares, to be determined based on the market.
"This is about working with breeders and making it a win-win situation for all," Martinelli said. "I'm confident the two stallions we have are going to hit something big."
Solitude's partners purchased King Zachary from the late Louisville lawyer Tom Conway for $30,000 at the 2020 Keeneland November Breeding Stock Sale and simultaneously purchased Tiz Mischief privately from prominent Louisville businessman Frank Jones.
"When I first saw the horse, I just see Curlin in him," Martinelli said of King Zachary. "He's just such a magnificent horse, has a lot of presence. He's very full of himself, which is something I like in a racehorse."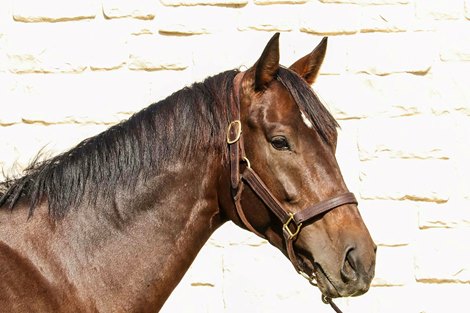 Of Tiz Mischief, she said: "I love the (broodmare sire) Tiznow side, which added much of his size. And, of course, what's not to love about the Into Mischief side? 'Tiz' is the kindest stallion we have ever owned, with a kind eye and gentleness that makes him all business."
Both horses were trained at 2 and 3 by Dale Romans, with King Zachary beating his runner-up stablemate Tiz Mischief in Churchill Downs' 2018 Matt Winn Stakes (G3). Joining Graham Motion's barn for an abbreviated 4-year-old season, King Zachary concluded his racing career with an 8 1/2-length romp in Birdstone Stakes at Saratoga Race Course while running 1 3/4 miles on dirt in 2:52.97 to break Kentucky Derby winner Reigh Count's 91-year-old track record.
"King Zachary was a generous and kind, big strong horse who was just about to reach his full potential" before being sidelined, Motion said. "With Curlin a proven sire of sires and King Zachary being out of a Giant's Causeway mare, there's a lot there for Texas breeders to like about him."
Tiz Mischief is the most accomplished foal out of the winning Tiznow daughter Indivia. The multiple graded-stakes performer was second by only a head in Churchill Downs' Kentucky Jockey Club Stakes (G2). He also finished third in Gulfstream Park's Holy Bull Stakes (G2) to start his 3-year-old season before niggling setbacks compromised much of the rest of his career.
"They were very talented horses that never reached their full potential, but they had the genetics to be great horses," Romans said of King Zachary and Tiz Mischief. "They both had great conformation, really super-looking horses by the right sires. That was a great day when they ran 1-2 in the Matt Winn, and I expected big things from both. Now I expect big things from their babies. Frank and I are Kentuckians, but we were sure to retain breeding rights to Tiz Mischief as part of his sale."
This year, Tiz Mischief and King Zachary have company in their new stud barn. Dallas residents and business owners Jeff and Stacy Jeans moved their stallions Uncle Vinny and Airoforce from Pennsylvania to Solitude. They are standing this year for $2,500 each.
Martinelli said their interest in standing stallions and investing in Texas racing was piqued by the passage of legislation in 2019 that channels the state sales taxes on horse feed and related products into $25 million a year in Texas' race purses.
"I thought, 'I think this is really going to be great for Texas racing,'" she reflected. "…I want to breed Kentucky-quality horses here at this farm—the quality of horses where it won't matter if that horse is labeled as being born in Texas or Kentucky. We want to breed a horse that can be competitive anywhere it races."
This press release has been edited for content and style by BloodHorse Staff.