Even though it is run over an all-weather surface, the Jeff Ruby Steaks (G3) can't be overlooked as a Kentucky Derby (G1) trial. It has actually seen a winner go on to triumph at Churchill Downs—Animal Kingdom scored in what was then the Vinery Racing Spiral Stakes (G3) in 2011, a more recent success than that achieved by winners of other established Derby trials, the Louisiana Derby (G2), Toyota Blue Grass Stakes (G1), and Wood Memorial Stakes (G2). And of course last year's shock Derby scorer, Rich Strike, earned his way into the classic with a third in the Jeff Ruby.
This year's Jeff Ruby saw an impressive performance by Two Phil's, who powered clear to score by 5 1/2 lengths in a time just 0.31 off the track record. In doing so, he earned a Beyer Speed Figure of 101, the highest for any 3-year-old colt in 2023, which is made all the more impressive by the fact that it was achieved over nine furlongs.
How much of Two Phil's performance can be attributed to the surface—this was his first try on anything but dirt—and how much due to natural progression remains to be seen. Looking at his form, however, it can be seen that he has been improving with almost every start. His first two wins were at tracks where one doesn't generally find future classic contenders. He broke his maiden at Colonial Downs on his second start, and then recorded a nearly 10-length tally in the Shakopee Juvenile Stakes at Canterbury Park.
A distant seventh behind Forte in the Claiborne Breeders' Futurity (G1), Two Phil's rebounded three weeks later to capture the Street Sense Stakes (G3) in the slop at Churchill Downs by 5 1/4 lengths. This year, he opened the campaign with a second to Instant Coffee in the Lecomte Stakes (G3), and followed up with a third in the Risen Star Stakes (G2).
By coincidence, Two Phil's sire, Hard Spun , also took the Jeff Ruby, run that year as the Lane's End Stakes (G2), back in 2007, the race's second year on the all-weather. Hard Spun went on to finish second to Street Sense in the Kentucky Derby, and his other achievements that term included wins in the King's Bishop Stakes (G1), Kentucky Cup Classic (G2), and Le Comte Stakes (G3), seconds in the Breeders' Cup Classic (G1) and Haskell Invitational Stakes (G1), and a third in the Preakness Stakes (G1). At the end of the year, he was retired to Darley alongside his contemporaries Street Sense and Any Given Saturday, who along with Curlin had formed a particularly contentious group of 3-year-olds.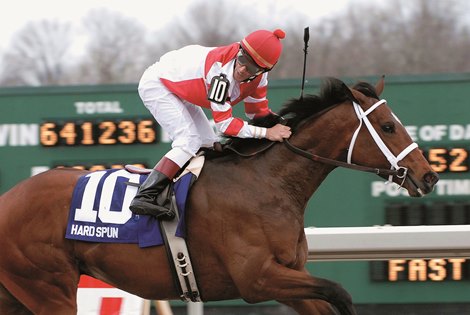 A son of Danzig, Hard Spun made a tremendous start to his stud career, with a first Northern Hemisphere crop that yielded 17 individual stakes winners, a figure that stood as a world record until surpassed by Uncle Mo (who was represented at the weekend by undefeated Louisiana Derby winner Kingsbarns). That first crop was headed by champion 3-Year-Old Filly Questing and the Mother Goose Stakes (G1) victress Zo Impressive. Hard Spun has 77 Northern Hemisphere-sired stakes winners to his name, including other grade 1 winners Hard Not to Like, Silver State , Wicked Strong , Hard Not to Love, Hard Aces, Spun to Run , Aloha West , Hardest Core, Out for a Spin, and Smooth Roller. He's also enjoyed a measure of success with his Southern Hemisphere crops sired in Australia, which have produced 20 stakes winners, including three grade 1 winners. Hard Spun is also a rapidly emerging broodmare sire, including champion 2-Year-Old and highly successful second-season sire Good Magic .
Two Phil's dam, Mia Torri, is by the Sky Mesa horse General Quarters. She was a smart runner, taking the Sugar Maple Stakes and Sunshine Millions Distaff Stakes, and earning seconds in the Charles Town Oaks (G3) and Bed o' Roses Invitational Stakes (G3). Her dam, the unraced Birdstone mare Flip the Stone, is out of Flippy Diane, whose victory in the Maryland Million Distaff Handicap singles her out as the most significant daughter of her sire, Aaron's Concorde (a son of French champion 2-Year-Old Super Concorde). There is only one other stakes winner under Two Phil's fourth dam, Elegant Edythe (by Northern Dancer's close relative North Sea), and none under his fifth or sixth dams.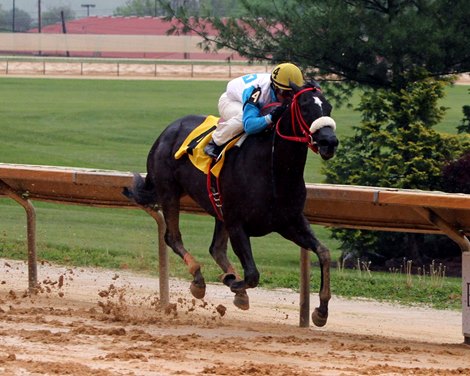 In fact, one doesn't come to real class until Two Phil's ninth dam, War Plumage, who after breaking her maiden in the Coaching Club American Oaks, went on to add titles as co-champion 3-Year-Old Filly of 1939 and champion Handicap Mare of 1940. Her dam, War Feathers—a record-breaking yearling fetching $50,500 way back in 1925—was by Man o' War out of the imported English dam Tuscan Red, a great-granddaughter of the mare Ornament, who had the distinction of not only being a sister to English Triple Crown winner Ormonde, generally acknowledged to be the greatest runner of the 19th century, but also dam of Sceptre, a filly who won four of the five English classics.
War Plumage also appears as the seventh dam of the ill-fated 2006 Kentucky Derby victor, Barbaro. Through another channel—War Feathers' half sister Leghorn—Tuscan Red is also ancestress of the 1963 Kentucky Derby scorer, Chateaugay, and of Little Current, a fast-finishing fifth in the Kentucky Derby and successful in the Preakness Stakes (G1) and Belmont Stakes (G1).
Hard Spun's second dam, Darbyvail, is a half sister to Little Current, meaning that Tuscan Red appears as the eighth dam of Hard Spun, and 12th dam of Two Phil's. The significance, though, lies not with the specific name of the common ancestor, but that the sire and dam of Two Phil's share the same mitochondrial haplotype, and that given the quality of Hard Spun as a runner and sire, it's likely that he owns nuclear dna that is likely to combine with that haplotype (the 'L' haplotype). This likelihood is increased the fact that all four of Two Phil's grandparents, six of his eight great-grandparents, and 11 of 16 great-great grandparents are also from the 'L' mtDNA line.