Through more than 15 years as an owner, Al Gold owns a doctorate in the turbulent swings of emotions in Thoroughbred racing.
"This game certainly has a lot of ups and downs," Gold said.
On March 25, he and trainer Brad Cox were in the enviable position of sending out Instant Coffee under Gold's Gold Square banner as not only the 3-2 favorite in the $1 million Louisiana Derby (G2) at Fair Grounds Race Course & Slots but one of the top five contenders for the Kentucky Derby (G1).
Seventy-two hours later, after a sixth-place finish in the Louisiana Derby, Instant Coffee has dropped out of the NTRA Top 10 3-Year-Old Poll and, barring a wave of defections, is unlikely to amass enough qualifying points to run in the May 6 opening leg of the Triple Crown.
"I don't think we'll make the Kentucky Derby with all the foreign horses coming in," Gold said. "We'll probably get pushed out. It's very disappointing, but there are other options for the horse. I've never run in the Preakness, so there's that. We'll see where we wind up."
A son of Bolt d'Oro bred by Sagamore Farm, Instant Coffee came into the 1 3/16-mile Louisiana Derby off wins in the Lecomte Stakes (G3) and Kentucky Jockey Club Stakes (G2). He was nicely positioned to secure a spot in the field of 20 for the Run for the Roses with 32 qualifying points and 100-40-30-20-10 points on the line for the top five finishers in the Fair Grounds' final Triple Crown prep.
But when Instant Coffee failed to fire in the stretch and missed fifth by 1 1/4 lengths, it left him in a precarious position in 19th place, with five preps worth a combined 200 points and the 40-point Lexington Stakes (G3) to go.
Skewering the point chase for U.S. horses is the decision by the connections of Continuar to accept an invite through the Japan Road to the Kentucky Derby series and the likelihood that the 1-2 finishers in the UAE Derby (G2), Derma Sotogake and Dura Erede, will be at Churchill Downs for the American classic.
The April 15 Lexington at Keeneland could be a last-minute option for picking up the necessary points, but Gold and Cox both played down that route.
"Nothing's ruled out. Everything's on the table. We'll nominate him to the Lexington, but I don't think we'll go. We'll see what happens," said Cox, who picked up a likely Kentucky Derby starter in Jace's Road, who was third in the Louisiana Derby and is 10th in the scramble for 19 remaining spots with 45 points.
Gold said the Peter Pan Stakes (G3, May 13 at Belmont Park) and the May 20 Preakness are the likely targets for the son of the Uncle Mo mare Follow No One if a Kentucky Derby spot does not materialize.
While the Louisiana Derby marked a drop-off from Instant Coffee after his back-to-back graded stakes wins, the slow pace did not help his late-running style. While the victorious, pacesetting Kingsbarns cruised through an opening half-mile in :49.60, Instant Coffee and jockey Luis Saez were 10th in the field of 12, about seven lengths behind.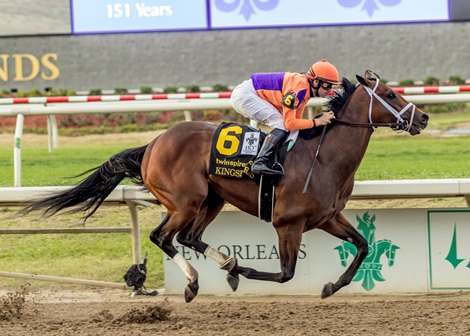 "It's hard for a horse with his running style to do good in a race like that without pace. It is what is. He bounced out of it all right," Cox said in a March 28 phone call. "We'll send him to Churchill tonight and we'll train over the next two weeks and see what happens in the other preps."
Purchased for $200,000 by Gold's racing manager, Joe Hardoon, from the Upson Downs Farm consignment to the Keeneland September Yearling Sale, Instant Coffee has won three of five starts with earnings of $452,815.
While Derby fever may not be percolating for Instant Coffee at the moment, Gold and Cox have another Triple Crown candidate in Gold Square's Slip Mahoney, who will run in the April 8 Wood Memorial (G2) at Aqueduct Racetrack. Second in the Gotham Stakes (G3) at the Big A, the son of Arrogate has 20 points and would crack the top 20 with a top two finish—and possibly a third—in the 100-40-30-20-10 point Wood Memorial.
"We have Slip Mahoney in the Wood and we're looking forward to that, though we want to do what's best for the horse," Gold said. "Even if he qualifies, we won't put him in unless we feel he has a shot.
"I'm not going to get Kentucky Derby fever and make bad decisions. I was in the Derby last year, and even though Cyberknife was 18th, it was a great experience. But I know if we don't go this year, there are still a lot of good, quality races out there for our horses."