A Kentucky hearing officer issued a recommended order to the Kentucky Horse Racing Commission that the stewards' disqualification of Medina Spirit from his win of the 2021 Kentucky Derby (G1) be affirmed along with disciplinary action taken against Hall of Fame trainer Bob Baffert.
The decision, released the evening of May 26 by the Kentucky Public Protection Cabinet, recommends the stewards' rulings be adopted in their entirety.
Stewards found Medina Spirit tested positive for betamethasone, a class C medication forbidden by regulation on race day, and described the infraction as Baffert's fourth medication violation in 365 days in any racing jurisdiction.
Medina Spirit's disqualification would strip the winner's share of the $3 million Kentucky Derby, $1,860,000, from owner Amr Zedan and keep in place a 90-day suspension Baffert has served. Baffert would also owe a fine of $7,500.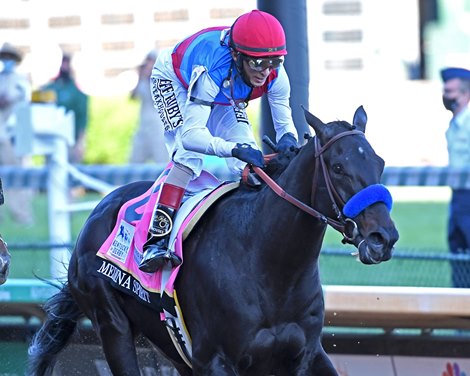 Procedurally, exceptions to the recommended order may be filed with KHRC arguing it contains incorrect findings of fact or conclusions of law. Once the agency reaches a final decision, it may be appealed to a Kentucky circuit court.
The stewards' ruling was issued in February 2022 and appealed by Zedan Racing Stables, Inc. and Baffert. A six-day administrative hearing followed in August but hearing officer Clay Patrick recused himself after attorney Clark Brewster bought a yearling in which Patrick and his farm had a substantial ownership interest at the Keeneland September Yearling Sale. Stephens was named to replace Patrick and ruled based on the already-made record without objection from the parties.
The Medina Spirit legal team put on evidence and argued that application of an ointment containing betamethasone, Otomax, to treat a rash caused the positive test and that Kentucky regulations allowed application of the ointment.
Stephens disagreed, writing, "The KHRC's regulations do not state that any route of administration excuses a post-race betamethasone positive. As the route of administration is irrelevant to the medication positive it is therefore unnecessary to issue factual findings or conclusions of law on the pharmacological effects of betamethasone."
Stephens rejected the ointment argument by concluding there is a regulatory difference in how a substance is administered and the levels found in post-race samples.
"Appellants contend (the regulation) permits the administration of betamethasone ointment; therefore, a betamethasone positive arising due to an ointment administration is not a violation. This interpretation improperly conflates the KHRC's regulations governing medication administration with the regulations governing medication levels in post-race samples," she wrote.
Stephens wound down the recommended order by addressing four other issues.
She rejected an argument that two of the stewards, Barbara Borden and Tyler Picklesimer, had conflicts of interest. "(T)he only conflict of interest prohibition applicable to KHRC stewards (is that) a steward shall not serve on a Stewards' Panel if the steward receives income from a licensee involved in a case before that panel," wrote Stephens. "Neither Ms. Borden nor Mr. Picklesimer receive income from either licensee involved in this case." She added that the stewards' actions were "restrained and reasonable. The stewards could have imposed a 5-year suspension and $50,000.00 fine."
The testimony of Dr. George Maylin, who has conducted drug testing since 1971 primarily for the state of New York and who concluded the betamethasone positive emanated from Otomax, was exluded from consideration by Stephens. Given that she found the route of administration of betamethasone irrelevant, Stephens relegated Maylin's testimony to the same category of evidence.
Stephens found his "novel testing method is neither published nor peer-reviewed" and cannot be published as a result. Citing Maylin's words she wrote, "Anyone seeking to verify his method would either have to 'take his word for it' or come to the New York laboratory and do their own research."
Stephens concluded KHRC's betamethasone regulations are clear, rendering their regulatory history irrelevant; and that the regulations were properly noticed and promulgated.
"The Hearing Officer finds and concludes that the Kentucky Horse Racing Commission has shown that the stewards' decision was made on reliable, substantive evidence that the horse, Medina Spirit, was administered and carried the prohibited substance, betamethasone," Stephens wrote in closing.
The recommended order is the second legal setback in three days for Baffert, and one of many. On Wednesday, a federal court judge dismissed a lawsuit Baffert filed against Churchill Downs, Inc., its CEO, and its board chair after CDI barred Baffert in June 2021 from stabling or entering horses in races at any of its tracks for a period of two years. Baffert also lost multiple attempts to obtain a stay of his 90-day suspension from KHRC, Franklin Circuit Court in Frankfort, Ky., and the Kentucky Court of Appeals.
Jennifer Wolsing is lead counsel for the Kentucky Horse Racing Commission. Brewster and W. Craig Robertson represent Zedan and Baffert.