After finding a stewards' ruling that declined to disqualify Justify from his win of the 2018 Santa Anita Derby (G1) so unclear it cannot be judicially reviewed, a Los Angeles judge ruled he will provide the officials an opportunity to comply with California law by clarifying their position.
The decision, which was rendered May 26 but not made public until today, breathed life into a lawsuit filed by Mick Ruis, the owner-trainer of Bolt d'Oro , who finished second to Justify. Ruis contends stewards had a legal duty to disqualify Justify under what is called rule 1859.5 after he tested positive for scopolamine.
The rule says, "A finding by the stewards that an official test sample from a horse participating in any race contained a prohibited drug substance as defined in this article, which is determined to be in class levels 1-3 (unless not confirmed by split sample testing) shall require disqualification."
A post-race sample revealed Justify was positive in the running of the Santa Anita Derby for scopolamine, an ingredient found in jimson weed, which at the time was a class 3 drug by rule. Before the Santa Anita Derby, officials had taken steps to change its status to class 4, a positive that does not require disqualification, but the change had not been codified.
During a CHRB executive session in August 2018, CHRB members voted unanimously not to press charges on recommendation of then-executive director Rick Baedeker and equine director Dr. Rick Arthur, and the matter was deemed closed. Their action was not initially publicly disclosed.
In the legal challenge filed by Ruis two years later, CHRB contends its decision was legal under California Business and Professions Code 19577, which says, "Any recommendation to the board by the executive director to dismiss the matter shall be by mutual agreement with the equine medical director. The authority for the disposition of the matter shall be the responsibility of the board."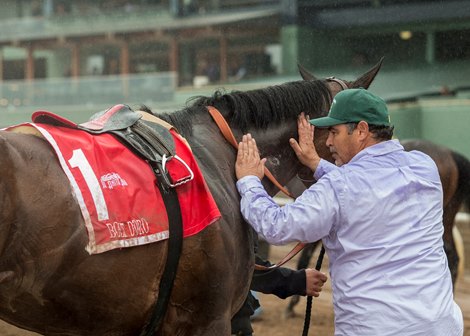 Up to the time Ruis began his lawsuit, stewards had never been presented with a case, but as a result of the litigation they held a hearing in October 2020. Ruis argued stewards should disqualify Justify using the mandatory language of rule 1859.5. CHRB argued disqualification would be improper based on several arguments: the board had already dismissed the matter in 2018 after an investigation showed Justify ingested scopolamine via environmental contamination; the complaint was not filed for two years; scopolamine was later reclassified to a class 4 substance; and fairness and due process would be violated if Ruis succeeded.
In his analysis, Los Angeles Superior Court Judge Mitchell Beckloff observed that courts must follow a deferential standard of review of administrative agency actions, so much so that there is a presumption of the correctness of their rulings; and that the burden falls on challengers to prove that the administrative ruling was unlawful. Whether the agency proceeded in accordance with the law, Beckloff noted, is a legal question that courts can and must review on their own by exercising independent judgment.
Beckloff then turned to rule 1859.5 and CHRB's argument that the rule, despite its language, does not require mandatory disqualification for class 1-3 drug infractions. Citing the 1997 case of Lavin v. California Horse Racing Board, Beckloff wrote that the argument is "unpersuasive."
"There can be no question the facts found by the Stewards required Justify to be disqualified under Rule 1859.5," Beckloff wrote.
Beckloff recited he understands the stewards said they declined to take action because CHRB had already decided not to pursue the matter during an executive session in August 2018, but Beckloff wrote that the stewards' analysis for its decision not to go forward is unclear.
"The court cannot supply its own reasoning for a decision," he wrote.
Beckloff essentially found the stewards were required, but failed, to issue findings that provide enough explanation so interested parties may determine whether, and on what basis, to review the agency's decision. Based on the record before the court, the judge found "effective judicial review of the Steward's (sic) decision is not possible because of a lack of clarity in the decision.... The Court cannot determine from the record how the Stewards reached their decision. Their analytical path is unclear."
Beckloff gave stewards another chance to make a clearer ruling by remanding, or returning, the case back into their hands.
Beckloff will review the matter again at a status hearing in Los Angeles Superior Court Aug. 4 to determine what actions, if any, stewards have taken as a result of the court's order.
The CHRB declined to comment, citing pending litigation, but in an email to BloodHorse, Ruis' attorney Carlo Fisco wrote that the stewards failed to explain how the closed CHRB executive session prevented them from disqualifying Justify despite the presence of scopolamine.
"CHRB Rules and California statutes require the disqualification of any horse who tests positive for a (class 1-3) prohibited substance," he concluded. "Whatever happened at the secret session cannot obstruct those regulatory and statutory requirements."