This story originally ran in the February 2023 issue of BloodHorse Magazine.
February probably wouldn't receive many votes from Northern Hemisphere denizens as Favorite Month of the Year. Everyone is sick and tired of the cold, the brown ground, and the bare trees. Yet, there is the romanticism of Valentine's Day, and, in racing, the hope of Thoroughbred breeders that they are about to create the next Flightline .
February marks the opening of breeding sheds and the beginning of dreams. Much studying of pedigrees, conformation, and what has and hasn't worked lead to the matching of broodmares with stallions—trying to make sense of an inexact science. Some seem to have cracked the code and possess a knack for excelling at it.
Continuing an ongoing series, BloodHorse seeks out the wisdom of an independent breeder who has proven smart, savvy, and lucky at the highest level, getting inside the reasoning they use to mate mare to stallion.
Fred Hertrich III, along with John Fielding, displays a gaudy record in the intensely difficult business of breeding successful racehorses. Hertrich, a Delaware-based auto magnate who oversees some 20 dealerships, relaxes from his day job with a cocktail or cold beer and plans matings through the fall and early winter. Find out what he's drinking, because Hertrich's achievements include breeding or co-breeding Eclipse Award winner Rushing Fall and European champion and classic winner Shamardal; and additional grade 1 winners Catholic Boy , Juju's Map, Pinehurst , Americanrevolution, Beyond Brilliant, Boys At Tosconova, Diversify, Hit the Road, Maxim Rate, and Street Boss.
Hertrich started in the horse industry with Standardbreds before expanding into Thoroughbreds in the mid-1980s with his original partner, the late equine reproductive vet Dr. Phil McCarthy. The men established Watercress Farm near Paris, Ky., which now covers 600 acres and is home to approximately 110 broodmares that Hertrich owns alone or in partnership with Fielding. The team also includes Robert Tribbett, who has been with Hertrich 20 years and helps plan the matings, and farm manager Shane Doyle.
It is no coincidence that Hertrich made his initial splash in broodmares in the '80s following an economic downturn. He is a contrarian who tries to buy when others are selling into soft markets. And for all his good fortune, Hertrich plays almost exclusively in the middle market. Many of his broodmare purchases are hammered down for under $100,000, and most for under $200,000. He's not entirely comfortable with the current economics that have seen prices soar.
"The last two years have been very difficult to buy where we like to buy and for the value we're seeking," Hertrich noted. "Stud fees are high, and anyone in the breeding business has to worry whether the economy is going to change dramatically over the next 24 months. It makes for a difficult business plan going forward.
"The strong market has affected us on mares we'd like to have purchased that we haven't. Those of us who have been through a couple of recessions have not been as bullish buying mares. You have some new people who, I think, don't know what can happen and how fast it happens. We're looking at retaining some weanlings and yearlings, and eventually putting them into training with the hope they become broodmares in the future. We've all had to alter what we've done in the past and operate a bit differently than five or 10 years ago."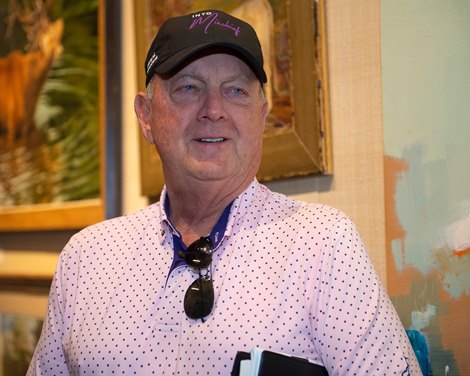 Hertrich is able to value shop because he is willing to give ground on a broodmare's race record and on certain conformational flaws, a strategy he has honed over years of experience. While others shy away from purchasing an unraced mare, Hertrich delves into the reasons why she didn't make it to the racetrack, speaking to her various connections to determine if the factors are disqualifying.
"Those things are very much a part of what we do. We have the experience to know we can breed away from certain characteristics and flaws," he said. "If the mare has had other foals, we learn about them and understand their characteristics. You can never get too much information. If she has a weanling at the sale, we'll look at it before bidding on the mare."
Although no one has a crystal ball, a certain amount of projection is required of successful breeders. To maximize return when selling out of a mare or when trying to produce the best potential racehorse, it is essential to identify as early as possible the sires and broodmare sires that will blossom down the road. Hertrich has been able to guess correctly on Unbridled's Song as a broodmare sire, buying numerous fillies by him who have paid dividends. He also landed on Distorted Humor mares before that stallion rose to near the top of the broodmare sires list.
Interested in more stories like this one? Subscribe to BloodHorse
As far as sires, Hertrich recalls his fondness for the late More Than Ready, a go-to stallion when he was trying to prove a young broodmare by getting a runner.
"For years we would breed a new mare to More Than Ready and be rewarded more times than not with a racehorse, dirt or grass," Hertrich noted. "As you see sires come up through the ranks today, you want to identify a More Than Ready-type because the stud fee doesn't choke you and you get the results at the racetrack. You're always hunting for that sire that gets you a sound horse. I don't need a sire who gets two grade 1 winners, but nothing else races. That doesn't help my mares."
Although Hertrich doesn't hesitate sending a broodmare to a new sire (as you can see in the matings below), at some point, a mare has to come up with a racehorse.
"We want to give our new mares the best opportunity to get a runner," he said. "Just because a new sire has wonderful credentials, it doesn't necessarily work out. If you breed to three new sires in a row, you might be selling your mare in year four."
The vagaries of the Thoroughbred business require passion and resilience, as disappointments generally outnumber the plans that actually come to fruition. Horses will make liars out of mountains of analytic information, and only the determined will survive. Hertrich considers planning matings his recreation, a diversion, and a challenge.
"We try to use our years in the business to consider everything—the physical match between mare and stallion, the pedigree cross, trying to breed stamina to speed, and sometimes just a gut feeling—all of that, to make our final decision on a mating," he said. "And even when we've done all that and believe we're going to get the perfect individual, of course you get surprised. I've had absolutely perfect horses, and then two weeks before the sale the vet comes in, and we have a disaster on our hands. If there was a perfect formula, the one guy who had it would score. What's so attractive about this business is that the good horse can come from anywhere and to anybody. The guy with the most money doesn't always win."
Hertrich and Fielding have won enough to be among the most respected independent breeders in the business. Below, Hertrich discusses 10 of their broodmares and the factors that went into their purchase and into the 2023 breeding decisions on each.
DANCING CLASS
(Orb—Party Now, by Tiznow)
First bred in 2022
FH: We bought her in November (Keeneland 2022, for $130,000) in foal to Good Magic . It's a Phipps/Janney family that we already own three mares from, and they've been productive and good to us. So when we saw this mare in the sale, we gravitated toward her. The fact she was unraced helped keep her price down, because some people feel you need a race record. There was no obvious reason we saw that would have stopped her. We were pleased with the price; we thought we'd have to pay more.
She's a young mare, and the big thing for us is we need a racehorse out of her, and we feel we have two solid opportunities. Good Magic has shown he can get runners, and we're sending her to Twirling Candy this year. Twirling Candy is one of the horses of this generation that we talked about earlier, a More Than Ready-type. He gets pretty tough racehorses, even if they won't necessarily win a beauty contest. So you take a mare with a very good pedigree, and we believe we can get a good horse out of these first two matings. Check back with me in three or four years and we'll see if we're right.
FUNNY BUSINESS
(Gun Runner —Hearty Laugh, by Distorted Humor)
First bred in 2022
FH: We bred her and she won a maiden special weight in her first race, at Keeneland, very impressively. But she pulled a suspensory in the race and we decided to keep her because she's a beautiful filly out of that family. (Second dam Justenuffheart is the dam of champion 2-year-old filly Dreaming of Anna and multiple graded stakes winners Lewis Michael and Justenuffhumor.) We bought Funny Business' dam, Hearty Laugh, for $150,000 and we thought Funny Business would have been a graded stakes filly if not for the injury. We bred her to Into Mischief last year and she is going to Speightstown . Physically, it's a natural. They're perfect together, and Speightstown's chances of getting a runner are very good. It's a proper breeding, and we're very excited about it.
GIANT WIN
(Giant's Causeway—Win's Fair Lady, by Dehere)
First bred in 2015, dam of Pinehurst
FH: We bought her for $95,000 and her pedigree represents the best family north of the border. There is so much power in the pedigree. (Giant Win is inbred 4x5 to Northern Dancer and 4x4 to Secretariat.) She had a full sister (First Passage, a G3 winner) who was a runner, and we still bought her at a very modest price; she only raced once. And then along comes Pinehurst (a son of Twirling Candy and winner of the 2021 Del Mar Futurity, G1), who we sold as a weanling for $180,000, and he never failed anyone. Everybody made money with him.
In 2021 we repeated the breeding to Twirling Candy, hoping for a filly, and we got one. And we think the world of that filly, who is now a yearling. Giant Win is going to Uncle Mo this year. We think he's a great stallion for her. Physically, it helps her that he can give her a little bit of leg, as did Twirling Candy. Uncle Mo is one of those horses that can really hit you a home run. It's a breeding we're confident in.
HIGHWAY MARY
(U S Ranger—Wandering Star, by Red Ransom)
First bred in 2016, dam of Hit the Road
FH: Justin Casse bought her for us (for $108,850) at Arqana. We gave him a list and he ended up buying several and it's turned out well for us. We sent her straight to More Than Ready and got a grade 1 winner (Hit the Road, Frank E. Kilroe Mile Stakes, G1T) right out of the blocks. We've bred her to top stallions and she has a 3-year-old Arrogate filly (Maleficent Love) that is a stakes-level runner.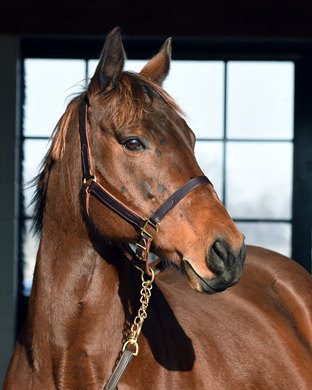 The reason we were able to buy her is her sire, but there is so much power in her pedigree, it's phenomenal. (Highway Mary is inbred to horses such as Nearctic, Roberto, Hail to Reason, Damascus, Ribot, and Flower Bowl.)
She is going to Not This Time . We're early in the game with him, but like his daddy (Giant's Causeway), he seems very consistent. There is substance to every one of them, they look the part, and they hit the racetrack as very sound animals. All signs are pointing to him being a sire to be reckoned with for the next 10-15 years. He's a plus-plus in almost every category.
LET FAITH ARISE
(Kafwain—Babe Hall, by El Corredor)
First bred in 2015
FH: We bought her last January (2022 Keeneland, in foal to Nyquist , for $140,000). She was a grade 1 winner in the nine-furlong Santa Margarita Stakes and everything she ran in later in her career was two turns. She was dominant. She's been bred previously to sires such as Tapit , Into Mischief, Curlin , and Nyquist. They were looking for a classic horse. I want to put the fastest sprinter I can find into her, so she's going to Jackie's Warrior . Conformationally, they fit very well and Jackie's Warrior is a great-looking horse. Pairing them up the way we do, we felt this was almost a no-brainer. She's screaming for speed, because she's got everything else.
It slaps you in the face to add speed and we're going to do that repeatedly with her. If we get it right, we could come up with anything.
POLLY FREEZE
(Super Saver —Elusive Gold, by Strike the Gold)
First bred in 2016, dam of Americanrevolution
FH: We bought her for $75,000 in 2016 (Keeneland November) and we got rewarded with Americanrevolution (Cigar Mile, G1). Getting a grade 1 winner that quickly we've been lucky and fortunate. From the time a horse is conceived until he wins a race like that, he can go through the hands of anywhere from 60-150 people and you can't have any mistakes. It's so difficult. We'd had a grade 1 winner within two years of getting into the business and I remember Ben Walden Jr. saying, 'Relish this day, because it may not happen again.' There are so many uncontrollable things involved, so you thank every person on the trail that has touched the horse.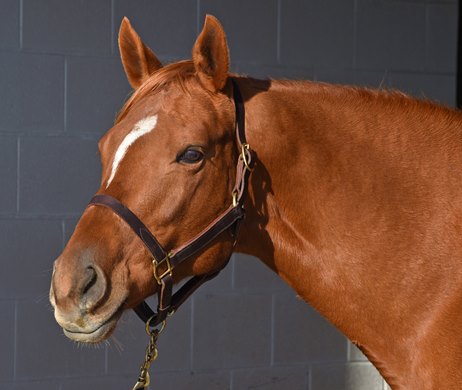 Luck has to be the biggest part of it. A guy can buy 10 million-dollar yearlings and not get one of them to the racetrack.
Last year, we repeated the breeding to Constitution (sire of Americanrevolution). He has been very good to us. We caught him early and saw how the ones we bred performed and bought a share in him. He's only going to get better. I would breed more mares to him if they let me. We are going to Flightline this year. Not everything matches up, but enough of it is an A+ where we think it's a no-brainer. The stars line up between them. She's a beautiful mare and her best horse is by Constitution, who is a son of Tapit. As is Flightline. It kind of makes sense.
ROCK WALL
(Fastnet Rock—L'Ancresse, by Darshaan)
First bred in 2017
FH: One of the best European families in the catalog. I really feel she is going to produce us a graded stakes winner. She's got Northern Dancer, Nijinsky II, and Natalma working for her. She is the only Fastnet Rock mare I have, so I have to figure out the right stallion to breed her to. Her yearling colt by Caravaggio is outstanding. We are sending her to Munnings , who we think will light a fire under her and get us a racehorse. Based on her physical and Munnings' physical and the (Munnings' sire) Speightstown influence, we think we can realize her potential. Munnings is a very useful sire. He's had too many good horses to think otherwise.
SPRING RING
(Super Saver—Diamond Necklace, by Unbridled's Song)
First bred in 2020
FH: There is some sentimental value here. We bought her in 2020 (for $82,000, Keeneland November). We owned her dam and her second dam. We sold her second dam, Helsinki, for $3.9 million after she had produced (European champion 2-year-old colt) Shamardal for us. Then we sold Spring Ring's dam, Diamond Necklace, as a weanling for $1.15 million.
We loved Spring Ring when we saw her and emotionally we were prepared to pay too much money for her. We were all in. When we bought her for that price, I was pinching myself. I can't count how many times being unraced has helped us out.
We sent her to Constitution last year and we're going to Jack Christopher (by Munnings) this year. He shows some of the characteristics you really like in a stallion. Conformationally, he's excellent and he has the speed I'm looking for. Thought it was a great place to breed her. There is sentiment involved, but I feel she will be an excellent broodmare for us.
STORMY RHAPSODY
(Unbridled's Song—Priceless Storm, by Storm Cat)
First bred in 2014
FH: She is a homebred and goes back to one of the first purchases I made with Dr. Phil McCarthy. We've been in and out of this family, so this one is sentimental, too. Her first two dams (Priceless Storm and Lady Lochinvar) have graded stakes winners under them.
She is going to Olympiad (by Speightstown), who I feel really has a shot among this incoming group of sires. I love his conformation, his attitude, and how he raced. If not for Flightline, we would have heard more from him. We certainly noticed that he defeated Americanrevolution a couple of times, although he was a 4-year-old and Americanrevolution was 3.
URBAN HILL
(Galileo—Sea Hill, by Seattle Slew)
First bred in 2018
FH: Another Arqana purchase (for $160,000). Galileo out of Seattle Slew was a positive. Like a lot of Galileo mares she is average-size. I look at his mares and say, 'I wish they were a hand bigger, 200 pounds heavier, and had a little more bone.' They don't have the size, but obviously he's a great sire.
The size and substance that Not This Time will give her makes it a great match and we're excited about the breeding. We've bred her to Union Rags and got a stakes-placed colt (Ohtwoohthreefive). With this mare we're trying to make a classic horse. We think the pedigree is there for that, and believe Not This Time is a great spot.