One by one, Spendthrift Farm's four-time leading North American sire Into Mischief reaches new milestones on the racetrack and in the auction arena.
The 18-year-old son of Harlan's Holiday reached a milestone not seen since 2005 during the first week of the Keeneland September Yearling Sale when he was represented by 12 yearlings to sell for $1 million or more. The September results pushed his total number of seven-figure yearlings for the year to 15, the most ever for a North American sire in a given year.
Overbrook Farm's top sire Storm Cat previously owned the record in 2005 when at the age of 22 he was represented by 13 seven-figure yearlings, of which 12 were sold at the September Sale. For the September Sale alone, Storm Cat remains the leading North American sire by lifetime number of seven-figure auction yearlings sold at 65. Into Mischief's career total is 29.
Into Mischief sired his first seven-figure yearling in 2018 with a colt named Snap Chap, out of the Distorted Humor mare Gaudete, who is a half sister to grade 2 winner and prominent sire Munnings . Larry Best's OXO Equine bought the colt for $1.2 million.
This year Into Mischief's top seller is a $3 million colt (Hip 261) out of the grade 1-placed Empire Maker winner Nonna Mia, making the yearling a half brother to Wood Memorial Stakes (G1) winner and sire Outwork . The sale yearling's second dam is Holy Bubbette (Holy Bull), who is the dam of multiple grade 2 winner and sire Cairo Prince .
"Did we know what we would see this year at the sale? No. What we have seen over the last several years is the mare quality continue to improve and then Into Mischief continues to get it done as a sire," said Ned Toffey, general manager for Spendthrift. "The combination of the breeders doing a really good job in breeding the right kind of mares and him continuing to do what he has done right from the start, set him up for this. We were optimistic about the market for Book 1 and Book 2."
Spendthrift saw strong results, too, with Authentic , a first-crop yearling sire by Into Mischief. Authentic was honored as 2020 Horse of the Year and champion 3-year-old colt after winning the Breeders' Cup Classic (G1), Kentucky Derby (G1), and Haskell Stakes (G1). He was also second in the Preakness Stakes (G1). He is the fourth-leading first-crop sire by average at the Keeneland September sale with 37 sold averaging $348,514. His top seller is a $900,000 colt named Innovator (Hip 168), who is out of the Unbridled's Song multiple stakes winner Inspired and bought by BC Stables. The sale colt was sold by Bridie Harrison on behalf of owner/breeder Peter Blum, who bred Authentic.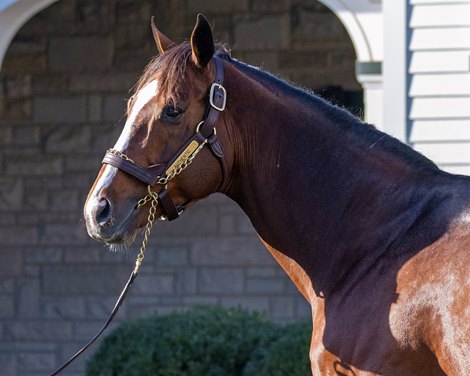 "These results fit with what we have been hearing almost from the start about Authentic's foals," Toffey said. "From sales companies and people getting around to the farms, we were hearing superlatives, but then to actually see it play out the way it has is very gratifying."
Of course, it has been a benefit to Authentic to be a son of Into Mischief.
"He benefited from it when he went to stud; first, because he was the kind of racehorse he was, looks like he does, and then is by Into Mischief," said Toffey. "At the sales, he is getting a very commercial-looking horse, but also ones that look like they will be racehorses. They look like they will be the type of horse he was, a two-turn horse that has some leg and scope and a lot of athleticism. Then second, being the best son of Into Mischief out there, I think buyers feel that much more confident in buying his offspring."
Three Chimneys Farm's Volatile is the leading Keeneland September sale first-crop sire following Books 1 and 2 with a $403,571 average from seven sold followed by Ashford Stud's Tiz the Law ($380,833, six sold), and Airdrie Stud's Complexity ($362,500 from four sold). Gainesway's McKinzie rounds out the top five first-crop yearling sires with a $291,000 average from 22 sold.
For the overall sires, Into Mischief led the rankings by average followed by Ashford Stud's Uncle Mo who was represented by five seven-figure sales and closed out Book 2 with a $489,857 average from 35 sold. Gainesway multiple leading sire Tapit was the third-leading sire by average at $488,600 from 20 sold followed by Hill 'n' Dale at Xalapa's Curlin at $480,870 from 23 sold, and Three Chimneys' leading sire Gun Runner at $449,500 from 30 sold.