Brereton C. Jones, master of Airdrie Stud near Midway, Ky., and a former governor of the Commonwealth of Kentucky, died Sept. 18 following a lengthy illness. He was 84.
In both the horse business and politics, Jones was a maverick, an individualist who did things in his own way, with a long list of accomplishments in both fields. He shaped the industry, especially in Kentucky, on several fronts and in his various roles.
Jones and his wife, Libby, started Airdrie Stud on 350 acres in 1970. Through boundless energy and a driven work ethic, Jones increased the size of the farm along Old Frankfort Pike to its current size of more than 2,500 acres. As a horseman he is best known for his affinity for fillies and mares. Jones won the Kentucky Oaks (G1) three times. Homebreds Proud Spell and Believe You Can captured the Oaks in 2008 and 2012, respectively, and Lovely Maria, sired by former Airdrie stallion Majesticperfection, won in 2015.
Jones carved his own path with his broodmares. He kept a far larger band of mares than many of his contemporaries—nearly 200.
"I love going to the breeding stock sales and sitting up close and making split-second decisions. I buy a lot of mares that way," Jones said in a 2004 interview with BloodHorse. "I enjoy playing the numbers game, and I love the free-enterprise system. I'd be bored to tears if I only had 10 mares, even if all of them were stakes producers."
Jones planned all his matings, not because he felt the most qualified to, but because of the fun and pleasure it gave him. Jones also took pride in standing stallions that were affordable to breeders, and he enjoyed success with sires such as Silver Hawk, Harlan's Holiday, Indian Charlie, Include, Creative Cause , Cairo Prince , and Girvin .
In recent years, Jones handed most of the duties of running Airdrie to his son Bret, who serves on numerous boards across the industry and has learned well from his father. Brereton Jones is also survived by a daughter, Lucy.
Brereton Jones was born in Ohio but grew up in West Virginia, the son of a state senator there. Jones was raised on a dairy farm near Point Pleasant, where he rode horses and embraced the cowboy culture. Early on, he also had a strange premonition about his future.
"As a child, when people asked me what I was going to be when I grew up, I'd say, 'I'm going to raise horses in Kentucky.' And people couldn't understand where I got that crazy idea. It was just something I was born with, I guess, because I loved horses and Kentucky was the horse capital of the world."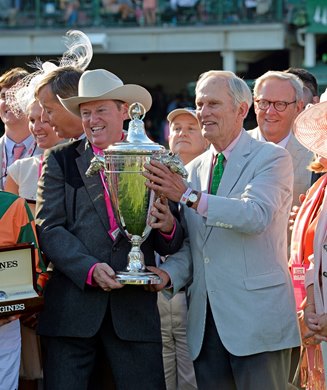 First, though, Jones followed his father into politics, becoming the youngest member at the time to ever serve in the West Virginia House of Delegates. Notably, he was a Republican at the time.
Once he followed his dream to Kentucky, Jones leased acreage from Libby's father to start his farm, but soon began to buy nearby tracts that he would pull together to form Airdire. Said Jones, "The male ego, being what it is, made me not want to be living on someone else's land."
Jones was a member of the state board of agriculture in the early 1980s, then ran for lieutenant governor of Kentucky in 1987. Sensing the prevailing winds in the Commonwealth at the time, Jones became a Democrat and was elected.
Once in Frankfort, Ky., Jones realized that the horse industry, for all its economic impact in the state, had a weak lobbying presence due to infighting among representatives of the various breeds, as well as divisions within the Thoroughbred industry. Having a stake in the horse business, Jones felt he could accomplish the most for it as governor, and was elected to that post in 1991.
Jones made no bones about his intent to help the state's horse industry, opening himself up to charges of conflicts of interest. But he charged ahead.
"Any governor who won't fight to save 80,000 jobs should be impeached," he said about helping the horse business.
He implemented breeder and stallion awards programs, setting up off-track betting facilities to help fund them. He took particular pride in turning a $400 million budget deficit when he took office into a $300 million surplus by the time he left office four years later.
"We just used a common sense approach to government," he explained. "That's why people respected the administration."
After leaving office, Jones was the driving force in establishing the Kentucky Equine Education Project, to help sell the horse industry to Kentuckians and educate them on the importance of supporting it statewide. He served as chairman of KEEP's board of directors from its formation in 2004 until 2011.
In a statement issued Sept. 18, KEEP stated, "Governor Jones worked tirelessly to promote Kentucky's horse industry. His dedication led to critical policy changes and initiatives that directly benefited horse owners, breeders, trainers, and enthusiasts across the state."
Added current KEEP chairman Case Clay, "He was a true champion for Kentucky's horse industry. His legacy will forever be felt in our organization and throughout the entire equine community."
Current Kentucky Gov. Andy Beshear on Sept. 18 called Jones "a dedicated leader and a distinguished Thoroughbred owner who worked to strengthen Kentucky for our families."
Among Jones' significant horses bred are champion Caressing, By Land By Sea, Imp Society, Cash Included, Check the Label, Commanding Fashion, Zandon , Tarlow, Faiza, and Classic Elegance. Jones bred or co-bred more than 30 grade 1 winners.
Racing for Carl Pollard, Caressing won the 2000 Breeders' Cup Juvenile Fillies (G1). Jones helped shape Breeders' Cup from the start and had a number of horses run well in the event.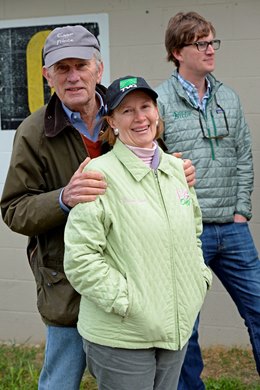 "Governor Jones' passion for Thoroughbred racing and breeding was second to none," said Drew Fleming, president and CEO of Breeders' Cup. "Not only did he position Breeders' Cup for long-term success as a founding member, but as governor of Kentucky he tirelessly promoted the Thoroughbred industry while simultaneously building a legacy that will live on through Airdrie Stud. We are forever grateful for his contributions to our sport and send our sincere condolences to his family and friends."
Stuart Janney III, chairman of The Jockey Club, marvels at Jones' accomplishments.
"Our condolences to the Jones family on the passing of The Jockey Club member, Governor Brereton Jones," Janney said. "He was an amazing man who accomplished so much in his public and private life. He wisdom, intellect, and values left a lasting mark on our sport and communities, and he will be sorely missed."
Kentucky Horsemen's Benevolent and Protective Association president Rick Hiles called Jones "A true champion for the horse racing industry at all levels for decades...He understood how vital the breeding and racing industries are for the economy and tourism throughout the state."
Keeneland president and CEO Shannon Arvin recalled Jones' passion for horses and the industry.
"Brereton Jones was widely respected for his leadership and integrity, serving the Thoroughbred industry as a statesman and visionary and the Commonwealth of Kentucky as governor and lieutenant governor," Arvin said. "His passion for horses and the land knew no bounds and culminated in his beloved Airdrie Stud, which for more than 50 years has been one of the world's foremost breeding operations. He believed in racing and worked tirelessly to improve our sport as a founding member of Breeders' Cup and the Kentucky Equine Education Project, a member of The Jockey Club and by championing formation of the Kentucky Breeders' Incentive Fund.
"At Keeneland, we will remember Gov. Jones fondly as a breeder, owner, consignor, and buyer of the highest caliber, and for being a valued member of our advisory board. We will celebrate his life and contributions, and the tremendous legacy he leaves behind.
"On behalf of Keeneland, we extend our deepest condolences to Gov. Jones' wife, Libby; his children, Bret and Lucy; his grandchildren B, Jack, Thomas and Wende; and the entire Airdrie Stud family."
Jones' family announced Sept. 21 that his body would lie in state in the rotunda of the Kentucky State Capitol Sept. 25 from 10 a.m.-7 p.m. The family will receive visitors at the Capitol on Monday from 3-7 p.m. and his funeral will be held at 10 a.m. Sept. 26 at Forks of the Elkhorn Baptist Church, 840 Duckers Road, Midway, Ky., followed immediately by a private burial.
Instead of flowers, the family suggests donations to any of these charities: Race Track Chaplaincy of America, Old Friends, or Bluegrass Care Navigators.
Libby, Lucy and Bret issued a statement Thursday following his death.
"It was his love of horses that brought Brereton Jones to Kentucky, but it was the people of the Commonwealth that made his life so incredibly fulfilling," the statement said. "His greatest pride never came in titles, but in those moments when he could use the gifts God gave him to help someone in need or inspire others to do the same. Our family has lost its hero, our leader, our beloved "Pop," but our hearts are filled with immeasurable gratitude for both the precious time we shared and the incredible outpouring of love we've received in the wake of his passing. We are overwhelmed by your kindness. Thank you."