Peter Willmott, an industry leader whose Willmott Stables campaigned standouts such as grade 1 winner and classic-placed Eddington, died Nov. 11 at his Williamstown, Mass., home. He was 86.
Thoroughbred Owners and Breeders' Association president Dan Metzger said Willmott helped shape the industry in his many years on the American Graded Stakes Committee, where he served as chairman; and on the TOBA board of trustees, including back-to-back terms as chairman from 2011-15.
"He was one of the best," Metzger said. "Peter Willmott was a wonderful, wonderful person who had a big impact on so many people's lives."
TOBA issued a statement as well on Willmott, who also was a member of The Jockey Club.
"TOBA mourns the loss of Pete Willmott, a beloved and highly respected owner and leader in Thoroughbred racing," TOBA said. "During his nearly two decades on the TOBA board of trustees, Pete served as chairman of the association, as well as chairman of the American Graded Stakes Committee. Pete's integrity, passion and commitment to the sport left an indelible legacy on TOBA and everyone associated with it.
"On behalf of TOBA, we extend our deepest condolences to Pete's wife Michele, his children Cindy, Sarah, John, David, Audrey, Matthew, and Christopher, his eight grandchildren and his brother Clark and sister Lesley and his entire family."
On the track Willmott Stables reached racing's heights with Eddington, a son of Unbridled who as a 4-year-old won the 2005 edition of the Pimlico Special Handicap (G1). That year he also won the Gulfstream Park Handicap (G2), lowering the track record for 1 3/16 miles to 1:54.74. At 3 Eddington won the 2004 Calder Derby (G3T) and finished third in the Preakness Stakes (G1). He also finished third in three other grade 1 races, including the Travers Stakes (G1).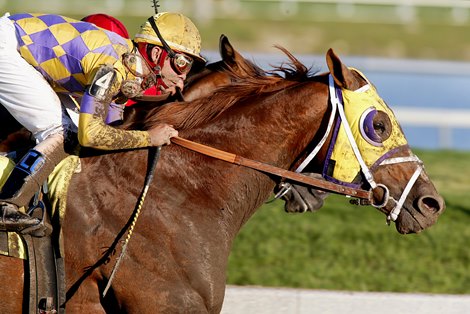 After that breakthrough win in the Pimlico Special, Willmott thanked trainer Mark Hennig and regular rider Eibar Coa.
"We have great advisers, an outstanding trainer, a great jock; so we knew we were in good hands," Willmott told BloodHorse. "Yeah, we had some frustration, but we all felt this horse was going to show his potential eventually."
After being retired from racing, Eddington would stand at Claiborne Farm for eight years and then Ballena Vista Farm in California for eight years.
Willmott also enjoyed graded stakes success with homebred Sand Springs, a daughter of Dynaformer—Lovely Martha, by Storm Bird. For Willmott Stables, Sand Springs won three stakes, including the 2003 Lake Placid Handicap (G2T). Willmott Stables sold Sand Springs after her 2004 season through the Keeneland November Breeding Stock Sale, where she was purchased by BBA Ireland for $625,000 from the consignment of Longfield Farm.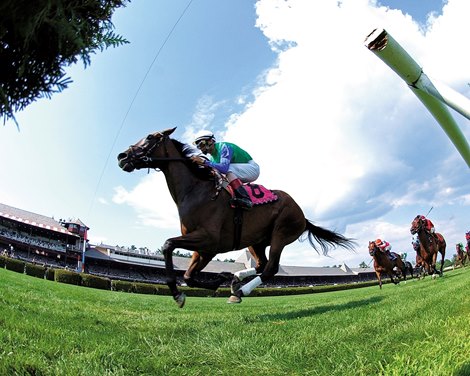 Sand Springs continued to race for Swettenham Stud and earned a grade 1 win for Willmott Stables as a breeder in the 2005 Diana Stakes (G1T) at Saratoga Race Course. Two-time Breeders' Cup winner Secret Circle, by Eddington—Ragtime Hope, by Dixieland Band, was bred by Willmott Stables.
Other top runners for Willmott Stables include grade 2 winner Wesley; Williamstown, who in winning the 1993 Withers Stakes (G2) set a track record for a mile on the dirt at Belmont Park in 1:32.79; and grade 3-winning homebred Aud.
When first elected as TOBA chairman in 2011, Willmott noted the investments owners and breeders make in the industry. He knew first-hand.
"I am honored that I have been chosen by my peers to serve as chairman of TOBA," said Willmott in a statement. "Owners and breeders are the venture capitalists of this industry and TOBA will continue its efforts to see that the return on their time, effort, and treasure invested is improved."
Willmott followed Reynolds Bell Jr., in that role as chair. Bell said Willmott made a positive impression on him as the two served on the TOBA board and the AGSC. He and Metzger took a break from this year's Saratoga meet to visit Willmott at his Williamstown home over the summer.
"I'll cherish that day because I just had a ton of respect for him," Bell said. "He was a guy that would make a difference in any setting that he chose to be in. I recognized that kind of early on. ... He was just such a capable person.
"He didn't need to dominate the room, but when he said something, it was something worth saying."
Away from racing, Willmott graduated from Williams College (1959) and Harvard Business School (1961). He would continue to have an unrivaled passion for Williams College and dedicated more than 60 years of service to the college. He served on the board of trustees from 1983-98, with 10 years as chair of the executive committee. (During Bell and Metzger's visit, Willmott made a point of showing them around campus.)
Willmott also was an ardent supporter of the Clark Art Institute in Williamstown, joining the board in 1999 and serving as president of the board from 2005-15.
Willmott began his professional career in New York City at American Airlines and Booz, Allen & Hamilton. In 1966 he became vice president and treasurer of I.T.T. Continental Baking Company. Willmott joined Federal Express in Memphis, Tenn., as chief financial officer in 1974. He later served as president and COO of FedEx from 1980-83 and continued on as a member of the board of directors until 2009. While in Memphis, he served on the boards of First Horizon Bank and Morgan Keegan.
Willmott was a trustee and board chair at St. Mary's Episcopal School, a senior warden at Church of the Holy Communion, and a board member of the Boys and Girls Club of Memphis. He was inducted into the Society of Entrepreneurs in 1992.
In 1983, Willmott joined Carson Pirie Scott & Co. in Chicago as chairman, president, and CEO. He subsequently served as president and CEO of Fleming Companies and Zenith Electronics. He also served on the boards of Browning Ferris Industries, International Multifoods, Maytag Corporation, Nicolet Instrument, Mac Frugal's Bargains Close-outs, Interstate Hotels, and Lebhar-Friedman. He was deeply engaged in civic service in Chicago, serving as board chair at Children's Memorial Hospital, and as a member of the boards of the Associated Colleges of Illinois, Chicago United, Chicago Symphony Orchestra, The Newberry Library, and Francis W. Parker School.
Willmott had a life-long association with Camp Dudley in Westport, N.Y., and was a member of the board of managers. Many enduring friendships began at the camp.
He is survived by his wife of 35 years, Michele, and their children Audrey Prieboy, Matthew Willmott, and Christopher Willmott (Rachel). Peter is also survived by his children from his first marriage: Cindy Belisle (Craig), Sarah Cowens (Tom), John Sherman Willmott, David Willmott (Catherine), and eight grandchildren..
Willmott is also survived by his siblings, brother Clark Willmott (Sheila) and sister Lesley Charlebois (Claude), along with cousins, nieces, and nephews.
Memorial contributions can be made to the Sanjiv Shah Laboratory by way of the Northwestern Memorial Foundation at the Northwestern Memorial Hospital. To add to the Book of Memories, please visit www.flynndagnolifuneralhomes.com.