It took 17 long years of waiting, but the moment was everything Jack Knowlton expected.
Maybe it was even better.
As Knowlton held a box with a trophy in reward for Tiz the Law's decisive victory in the $980,000 Runhappy Travers Stakes (G1) Aug. 8, the founder and operational manager of the group that owns the son of Constitution had a smile that even a face mask could not hide.
"Absolutely, this was very special. (Tiz the Law) performed even better than we could have hoped," said the head of Sackatoga Stable who has long lamented missing the 2003 Travers in his hometown of Saratoga Springs, N.Y., with the stable's first classic winner, Funny Cide. "We were confident going into the race, but we saw what happened last week (when Midnight Bisou was beaten in the Personal Ensign, G1). You know this is the Graveyard of Favorites, but I was hoping they closed the gates on that last weekend.
"We're getting redemption 17 years later."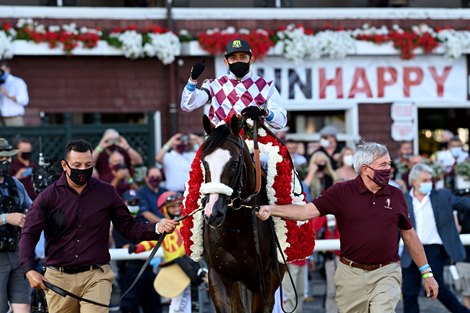 Saratoga Race Course's ancient penchant for upsets stood about as much of a chance of stopping Tiz the Law as the six other 3-year-olds who lined up against trainer Barclay Tagg's Belmont Stakes Presented by NYRA Bets (G1) winner and 1-2 favorite in the Travers—which turned out to be none at all.
The New York-bred Tiz the Law toyed with his rivals in winning by 5 1/2 lengths over Caracaro under a savvy ride by jockey Manny Franco in the 1 1/4-mile Midsummer Derby at the Spa and removed any doubt over his status as a heavy favorite for the Sept. 5 Kentucky Derby Presented by Woodford Reserve (G1), where he will resume his quest to become the sport's 14th Triple Crown champion.
"Hopefully, we'll continue on this roll and this is a great springboard to go to Kentucky. I think he's proven today that he's certainly a mile-and-a-quarter horse," Knowlton said. "Barclay said that all along. I think as most of you know, Barclay hoped that the Belmont Stakes would be a mile and a half instead of a mile and an eighth."
Knowlton and Tagg have already experienced the thrill of winning the Kentucky Derby and the Preakness Stakes (G1) with Funny Cide. Yet in New York's two biggest races, the gelding was third in the Belmont Stakes and missed the Travers due to an illness. Given how Tagg's stable numbers just 25 horses and Sackatoga is campaigning just six of them, being able to pick up wins in both of those grade 1 stakes with Tiz the Law made Saturday a day neither will forget.
"I've always wanted to win the Travers," said Tagg, who saddled his first winner in 1972 and expressed his gratitude to groom Juan Barajas Saldana and assistant trainer Robin Smullen for their work with Tiz the Law. "It's been in my head my whole life. I don't know why, but now it's happened and I couldn't be happier."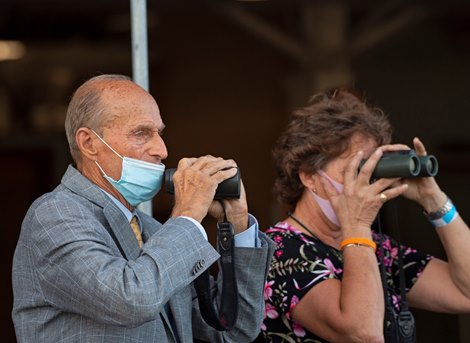 For Knowlton, the odds a small stable overcame to find and develop a horse into a Belmont Stakes and Travers winner only heightened his appreciation of the moment.
"It's something I'll never forget. It's a highlight," Knowlton said. "After winning the Kentucky Derby, which is really the highlight for anyone who is involved in this sport, this is easily No. 2. It's quite an accomplishment for our little stable of New York-breds, and for Barclay Tagg training them, to win the two biggest races in New York. We're just thrilled to death."
The only regret for Knowlton was that Saratoga was closed to fans due to the COVID-19 pandemic, and he could only attend the race with 11 other licensed owners from the 35-person Sackatoga group.
"I wish there was 50,000-plus here today to see this performance live," Knowlton said. "But we're fortunate that we were able to run these races and that (the New York Racing Association) made an accommodation for some of the owners to be here."
What most people had to watch on television was a performance that accounted for Tiz the Law's sixth win in seven starts and his third consecutive grade 1 win, a stretch dating to the Curlin Florida Derby (G1) in late March. Like his five previous victories, the bay colt with earnings of $2,015,300 was once again victorious by at least three lengths, and after extending his dominance to the 10-furlong distance of the Kentucky Derby, you can wonder whether other horsemen will finally get the message. Though the Travers was a Kentucky Derby points race, with 100-40-20-10 points going to the top four finishers, that may be a moot point after Saturday.
Are 19 rivals really going to face Tiz the Law, who sits atop the Kentucky Derby Leaderboard with 372 points, on the first Saturday in September at Churchill Downs?
"He gave me chills," said Franco, who rode in the Travers for only the second time and was ninth on the first occasion five years ago. "When I pressed the button, he just took off. He accelerated really hard. After that, I took a peek back and he was going away, and I just saved horse. I'm looking forward to the next race."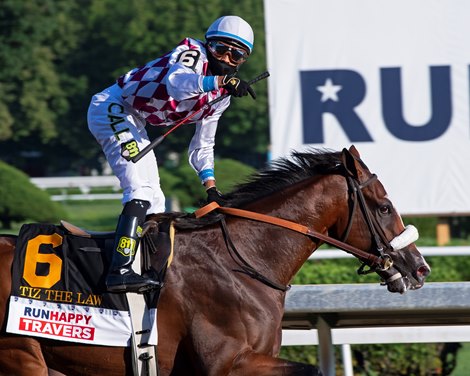 Tiz the Law's victory made him just the third New York-bred to win the Travers and the first since Thunder Rumble in 1992. A half brother to stakes-placed Awestruck bred by Twin Creeks Farm out of the Tiznow mare Tizfiz, he was bought by Knowlton for $110,000 from the Sequel New York consignment at the 2018 Fasig-Tipton New York-Bred Yearling Sale.
The toteboard painted Uncle Chuck as the main rival for Tiz the Law ($3), but the son of Uncle Mo made more noise in the paddock before the race than he did during it.
Trainer Bob Baffert's hope for a fourth Travers win, Uncle Chuck was the 5-2 second choice and set the pace for the first six furlongs under jockey Luis Saez. But Franco never let the California shipper get away from him as he moved Tiz the Law to within a half-length of Uncle Chuck after three-quarters of a mile in 1:11.95. From there, it was no contest as Tiz the Law moved past Uncle Chuck to take a half-length lead at the quarter pole, and he extended the margin to a safe 4 1/2 lengths at the eighth pole.
Widening his lead in the final furlong, Tiz the Law covered the 10 furlongs in 2:00.95 as he prevailed at the Spa one year to the day of his debut victory at the upstate New York track.
As Uncle Chuck dropped back to sixth, and probably faded from Triple Crown contention, 11-1 shot Caracaro moved into second and grabbed the place spot by two lengths over Max Player.
Owned by Global Thoroughbreds and Top Racing and trained by Gustavo Delgado, Caracaro, a son of Uncle Mo, was coming off a runner-up finish in the Peter Pan Stakes (G3) earlier in the meet.
"I think he has some room to improve. I think he's starting to get better and going in the right direction," jockey Javier Castellano said. "I would like to see him hook up with Tiz the Law later on, and I think it's going to be a different story."
Max Player, an Honor Code 3-year-old owned by George Hall and SportBLX Thoroughbreds, was third to Tiz the Law for a second straight time. He was 5 1/4 lengths behind in the Belmont Stakes and beaten by 7 1/2 lengths in the longer Travers.
Max Player and Caracaro both have 60 Kentucky Derby points and are ninth and 10th, respectively, on the leaderboard.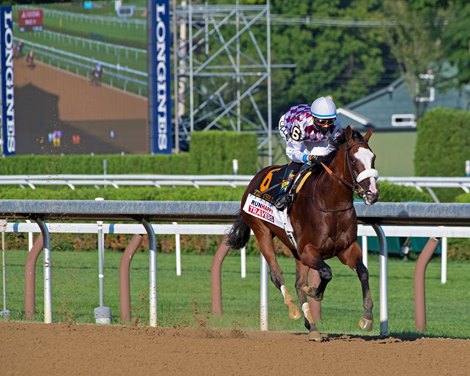 Video:

Runhappy Travers S. (G1)