Grindstone, a horse bred through a charitable effort who would reward that act by reaching racing's heights in the 1996 Kentucky Derby (G1), died March 22 at Dr. Jack Root's Oakhurst Thoroughbreds near Newberg, Ore.
At 29, Grindstone had been the oldest living Kentucky Derby winner.
A homebred for the late W.T. Young's Overbrook Farm, Grindstone would go on to stand there for 13 years before being moved to Oakhurst, where he would be the first Derby winner to stand in the Northwest. He stood eight seasons in Oregon before being retired in 2018 where he would continue to receive the care of veterinarian Root, who loved showing off Grindstone to visitors.
Root's son, Ben, said in an email that Grindstone's passing had left a void at the farm.
"It breaks my heart to tell you, that last night Grindstone succumbed to infirmaries of old age. You can't outrun time, and unfortunately... it's just so sad around here this a.m.," Ben Root said. "Owning this horse was the greatest thrill in my father's lifetime."
Grindstone provided plenty of thrills during his lifetime, none bigger than May 4, 1996, at Churchill Downs when the homebred for Lexington native Young rallied from fourth in mid-stretch to edge Cavonnier by a nose in one of the closest races in Derby history. The victory gave trainer D. Wayne Lukas the third of his four Derby wins to date.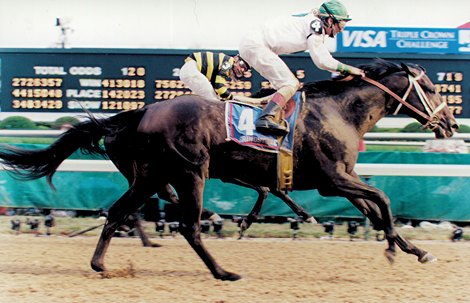 "It was probably my favorite Derby because of winning it for Bill Young," Lukas said. "A Kentucky native winning the Derby I think is the ultimate. When a native of Kentucky wins that race, I think it's pretty special."
Unfortunately a knee injury would cut short Grindstone's racing career. He would not race after the Derby.
"It was a shame," said Young's longtime adviser Ric Waldman. "He went from relative obscurity to the fame of winning the Derby and then, because he got injured in the Derby, he went back to obscurity. It made it a little more difficult to create a following among breeders, but he did have a decent amount of success."
A son of 1990 Derby winner Unbridled, Grindstone passed on his classic ability to Birdstone, winner of the 2004 Belmont Stakes (G1). Birdstone, in turn, sired classic winners Mine That Bird and Summer Bird.
Grindstone boasted admirable beginnings. Waldman and Lukas recalled how Young had purchased a season to Unbridled donated by the Frances A. Genter Estate to benefit the Kentucky Derby Museum. In a BloodHorse profile of Young after the Derby, Young recalled that purchase.
"The caveat was that the price was $30,000, no guarantee," Young told BloodHorse. "Some people told me that was expensive on the market at the time. I thought the price was all right then. I guess a lot of people think it looks cheap now."
In using the season, Young sent grade 1 winner Buzz My Bell, by Drone, to Unbridled. Waldman recalled that decision was largely based on physicals as Buzz My Bell had short legs and Unbridled had long legs.
Once on the track, Waldman noted that Grindstone faced a number of physical setbacks. He credited Lukas with keeping the colt moving forward. Grindstone put it all together in the spring of his 3-year-old season, winning the Louisiana Derby (G3) by 3 1/2 lengths at Fair Grounds Race Course & Slots in March and finishing a close second to Zarb's Magic in the Arkansas Derby (G2) after a wide trip at Oaklawn Park.
Jockey Jerry Bailey was aboard for both prep races and the Kentucky Derby. The Racing Hall of Fame rider earned his second Derby win in 1996, when he and Grindstone rallied from 15th early.
In his Derby win, Grindstone defeated that year's Preakness Stakes (G1) winner, Louis Quatorze, Belmont winner, stablemate Editor's Note, and 1997 Breeders' Cup Classic (G1) winner Skip Away.
RIP 1996 @KentuckyDerby winner Grindstone, who has passed away at the age of 29. according to Oakhurst Equine Veterinary Services in Newberg, Ore. pic.twitter.com/b4K8kdDRYl

— Churchill Downs PR (@DerbyMedia) March 23, 2022
"He was a pretty nice horse and a very good-looking horse," Lukas said. All involved wonder what could have been.
"He had a great deal of talent, but he had some soundness issues," Waldman said, noting surgery Grindstone had as a juvenile to remove bone chips. "Only Wayne Lukas could take this horse from that point and win a Derby with him. It was really quite remarkable."

After his shortened racing career and standing in Kentucky, Root negotiated a deal to purchase Grindstone. The 1997 Derby is the only Derby Root has ever attended. He fell in love with the horse.
"I've attended one Kentucky Derby; Grindstone won that day," said Root, who would later visit Grindstone at Overbrook Farm. "When Mr. Young died, I told my receptionist at that time I was going to call them and see if they'd sell me that horse. She thought I was completely nuts. I called Ric Waldman and he said they had an offer and we'd have to beat it. And we did."
Root recalls celebrating the purchase by drinking some Oregon wine that evening. He notes that Grindstone sired some nice horses during his time in Oregon, including a number of winners of stakes contested at Portland Meadows and the region.
After his stallion career, Grindstone settled into a role of ambassador—a star attraction for the 500-600 people who would visit Oakhurst for the Roots' Derby parties. They would take photos and revel in being that close to a Derby winner.
Grindstone will be buried next to the breeding shed at Oakhurst.
It's been a difficult year for past Derby winners. Go for Gin entered the year as the oldest living Derby winner, at 31, but he died of heart failure March 8 at the Kentucky Horse Park. Grindstone inherited that title until his passing. Silver Charm, who resides at Old Friends, is the current oldest living Derby winner at 28.
Waldman said Grindstone enjoyed his long life.
"I'm glad the Roots ended up with him because they really cared about the horse," Waldman said. "It's one of those things where we were sad to see him go from Kentucky but you're pleased that he's going to a great new home with people who cared for him."
Root marveled at his luck to be associated with the 1996 Derby winner.
"He was absolutely one of the highlights of my life. In the horse world, he is the highlight of my life," Root said. "He was just a very special horse. Not only was he a Kentucky Derby winner, he was a very, very special individual. He knew he was cool. He acted like he was cool and he expected to be treated that way. He was just one of the smartest, neatest horses I've ever known.
"Just hanging around the horse, you knew that you were in the presence of something very special."