Mel Stute, trainer of 1986 Eclipse Award champion 3-year-old male Snow Chief, died Aug. 12 at age 93. He was with his family at Del Mar and died at home, said his son, trainer Gary Stute.
Though any mention of Snow Chief made Stute light up and launch into a tale, he trained many more good horses and was especially known as a leading conditioner in California. Stute trained Brave Raj to win the 1986 Breeders' Cup Juvenile Fillies (G1), and the filly was voted an Eclipse Award as the year's champion 2-year-old filly.
But it was his ability with inexpensive horses that demonstrated his true training expertise. Stute would comb California sales in search of horses that cost $25,000-$30,000 because, he said, he knew he could drop them in for maiden $32,000 and "get out" (at least break even) on them.
While that approach helped keep losses to a minimum, there were no limits on success for such horses in Stute's hands.
In 1986 at a California 2-year-old sale, Stute selected Very Subtle, a daughter of Hoist the Silver—Never Scheme, by Never Bend, for $30,000. For Ben Rochelle, who also co-owned Snow Chief, Stute trained Very Subtle to an outstanding sprint career that included the then 3-year-old filly beating males at odds of 16-1 to win the 1987 Breeders' Cup Sprint (G1). Very Subtle would eventually retire with earnings of $1,608,360.
Stute always will be known for Snow Chief, however. Carl Grinstead's Blue Diamond Ranch bred the colt in California and when Rochelle purchased a half-interest in Grinstead's horses, Snow Chief came with the deal.
At 2 in 1985, Snow Chief's victories included the Norfolk Stakes (G1) and Hollywood Futurity (G1). That season he earned the first of three consecutive Cal-bred Horse of the Year titles.
Stute first garnered national recognition for the colt when, after Snow Chief captured the 1986 El Camino Real Derby (G3), he shipped him across the country and won the Florida Derby (G1), using a young jockey named Alex Solis. Back home in California, Snow Chief added the Santa Anita Derby (G1).
When asked after the Santa Anita Derby about the Triple Crown and how Snow Chief was faring, Stute said the colt was fresh and hadn't reached his peak.
"I don't know where his peak is," Stute added. "I've had mostly claiming horses, and claiming horses have to peak every time you lead them over. I don't know what this peaking stuff is."
Disappointed when Snow Chief inexplicably ran 11th in the Kentucky Derby (G1), Stute wheeled him back in the Preakness Stakes (G1). Snow Chief defeated Derby winner Ferdinand in the second jewel of the Triple Crown and added the Jersey Derby (G2) that year. The following year Snow Chief won the Charles H. Strub Stakes (G1) and Oaklawn Handicap (G2), ultimately earning $3,383,210, at the time a record for a Cal-bred.
Born in 1927 in Fort Wayne, Ind., Stute grew up with his older brother, Warren. The two trained many horses in California, having begun working on the backstretch, Mel as a groom in 1945. Mel saddled his first winner, Egg Nog, in 1947 at Portland Meadows.
Through the years, Mel Stute's other top runners included First Balcony, winner of the 1961 Californian; multiple graded winner Telly's Pop, owned by TV star Telly Savalas; and Double Discount, who set a world record of 1:57 2/5 for 1 1/4 miles in the 1977 Carleton F. Burke Handicap on the Santa Anita Park turf. Stute also trained grade 1 winners Right Con and Kool Arrival.
Inducted into the California Thoroughbred Breeders Association Hall of Fame in 2008, Stute trained through 2011. Equibase has him listed as having trained the winners of 2,000 races for total purse earnings of $55,653,244.
Stute particularly excelled at Pomona, later called Fairplex and now closed. In later years, he received a special parking spot there and was the first honoree in the Fairplex Park Hall of Fame. But Stute was even prouder that Fairplex dedicated the Stutes' Sport Bar & Grill to the family, which included Mel, Warren (who died that year), and Gary.
"I go over there all the time to dust my plaque," Mel said a couple of years later.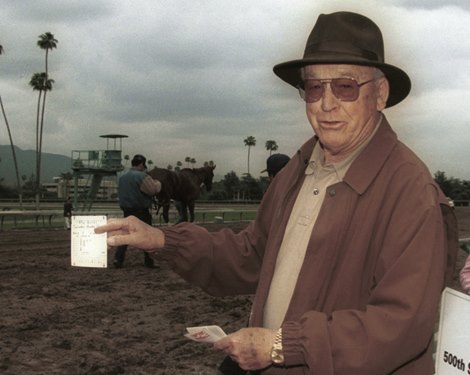 Well before he retired from training, Stute was one of several trainers who held court at Clockers' Corner at Santa Anita. Just about any morning, he could be found there, often with Gary, Warren, owner B. Wayne Hughes, and such other trainers as Barry Abrams and the late Henry Moreno.
At Clockers' Corner, not only would Stute tell stories about Snow Chief with little prompting, he delighted in recalling some of his successful wagers. Gary said that Mel's final wager, a Pick 6 at Saratoga Race Course made just a few days before his death, was a winning one.
Mel Stute is survived by his wife, Annabelle; son Gary; daughters Jana DiGrande and Gail Pinkner; and six grandchildren. Gary noted that Mel and Annabelle were just a few days shy of their 70th wedding anniversary. The family requests that donations be made to the California Thoroughbred Horsemen's Foundation, which provides medical and dental services to backstretch employees out of the Noble Threewitt Health Center.