As the Keeneland September Yearling Sale nears the end with one day left of selling, all figures show a healthy increase from the COVID-19 pandemic year of 2020. Consignors are setting realistic reserves and buyers are still struggling to get orders filled, both of which helped lend to a record low RNA rate of 12.2% for the Sept. 23 session.
"It's been an excellent sale—very strong," Derek MacKenzie of Vinery Sales said. "If they vet well and look the part, then you are rewarded with more than expected, so that's great."
A total of 303 yearlings sold for $9,194,000 during the 10th session Thursday at Keeneland, for an average of $30,343 and a $23,000 median.
The third day of Book 5 will start tomorrow to conclude the 11-day sale. Cumulatively Keeneland has sold 2,538 horses for $360,194,000, for an average of $141,920, and a median of $75,000. The overall RNA rate is 16.6%.
At the conclusion of Book 5 in 2020 (a two-day session), Keeneland reported 244 horses sold for gross receipts of $4,764,900, an average price of $19,528, with a median of $13,000, to represent the 301 horses on offer. Fifty-seven horses failed to meet their reserve, representing an RNA rate of 18.9%.
With 24 yearlings sold from 24 offered, Paramount Sales was the leading consignor for session 10 with total receipts of $1,169,000, achieving an average price of $48,708. Cumulative leading sale consignor Taylor Made Sales Agency has grossed $36,430,000, representing 267 horses sold of the 335 on offer, carrying an average price of $136,442.
In comparison to 2020, this year Book 5 sells over three days, with the last day presenting 453 horses (before outs).
"I think (the new format) is fantastic because it helps concentrate the sale—there are so many outs in the last book, so it makes a full day of selling for today," said Pat Costello of Paramount Sales. "The end of the sale this year is amazing. Everything going up to the ring is selling, and coming into the sale, I didn't think it would be anything like this. It's solid."
A $145,000 son of Tapiture led the day early on to hold as the session topper. The colt consigned as Hip 3173 by Paramount is out of the winning Dayjur mare Informative Style, who has also produced Watch This Cat, winner of the 2017 Las Cienegas Stakes; Canadian stakes winner Stylish Citizen; stakes-placed Point Blake; and a recent catalog update with full sister Li'l Tootsie, who placed in the Sept. 4 Prioress Stakes (G2) at Saratoga Race Course. The colt was bred in Kentucky by Davant Latham, who watched the horse go through the ring to be secured by John Greathouse, purchasing for Al and Arlene London's Glencrest Farm.
The second-highest price of the day was the $120,000 paid for a filly from the first crop of Bolt d'Oro , also consigned by Paramount. Offered as Hip 3182 and purchased by Maddie Mattmiller, agent for Black Type Thoroughbreds, the filly is out of the stakes-placed Julie's Jewelry (by Distorted Humor), from the family of grade 1 winners General Challenge, Notable Career, and Evening Jewel. Offered initially by Small Batch Sales at the 2021 Keeneland January Horses of All Ages Sale, she failed to meet her reserve when the hammer fell at $24,000 and Audin Gomez and partners snapped her up privately.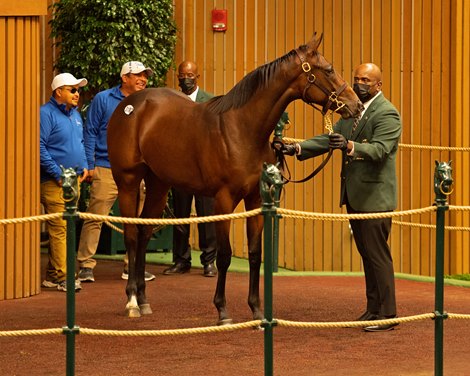 Lothenbach Stables ranked as the session's leading buyer by gross with four horses purchased, recording receipts of $230,000. A $95,000 Klimt colt named Beech Forest consigned as Hip 3186 by Warrendale Sales was their top purchase. Klimt rounded out the session as leading sire with seven progeny sold, accumulating $289,000. Lothenbach also acquired a $65,000 Goldencents filly (Hip 3211), a $50,000 Candy Ride filly (Hip 3385), and a $20,000 daughter of Connect .
The day concluded with Hip 3579, the final horse to go through the ring and the last horse to carry the South Point Sales name, leaving the back ring with no dry eyes. The agency's co-founder Mike Recio left the community far too soon when he died Sept. 16, and he is sorely missed. A celebration of life will be held in Recio's honor Oct. 1 at The Thoroughbred Club of America adjacent to Keeneland from 6:00-9:00 p.m. ET.
The sale concludes Sept. 24, with the first horse of the day set to go through the ring at 10 a.m. ET.